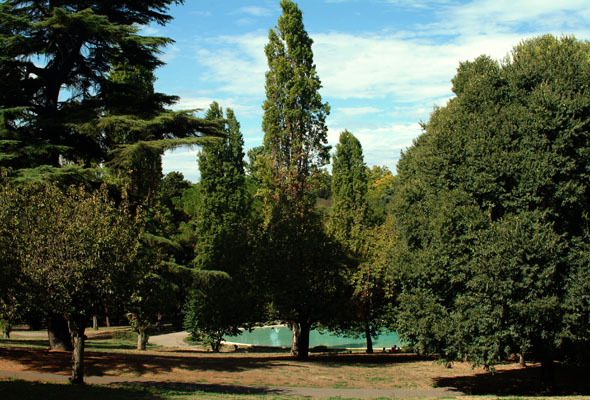 Rome offers a wide range of stimulating opportunities to view splendid Villas immersed in its history-steeped and charming public parks; refreshing walks among the lavish green nature and creamy white marble. The "Green & Marble City" is conspicuous for its intricate fusion of art, architecture and nature. In the high season, a number of Rome's parks assume the semblance of a welcome rural oasis midst the hustle and bustle of city life. At the same time, a sunny Sunday morning walk amid the park's historical relics is like taking a step back in time. There is nothing so both relaxing and uplifting as a stroll down one of the park's leafy lanes often amid picnicking local residents and passing patrols of mounted Carabinieri officers.
So we start off from the Pincio (Pincian Gardens), overlooking Piazza del Popolo. Here, wooden or papier-maché pyrotechnical machines, designed by renowned architects, were once ignited on special occasions. The gardens directly spill into 85 hectars of Villa Borghese public park, which belonged to Borghese Princes' private villa up until the end of the nineteenth century. There is something for everyone in Villa Borghese's all-embracing sumptuous grounds: art-lovers may enjoy the invaluable collection of paintings and sculptures in the Galleria Borghese or, for example, families might choose a day out among the vast variety of mammals, reptiles and birds in the Biopark. Comfortably nestling among the pine trees is the Casa del Cinema, which offers a full programme of screenings, film editing and direction classes as well as conferences, while it is ideal for a simple break seated outside its Cinecaffè. An opportunity should neither be missed to also visit the Globe Theatre, a faithful reproduction of the Elizabethan original.
Just as invigorating is ambling through the verdant Villa Torlonia public park, which is just a two kilometre bus ride along the Via Nomentana from Porta Pia. Purchased by Banker Giovanni Torlonia in 1797, the lavish villa was designed by Neoclassic Italian Architect Giuseppe Valadier in 1802. However Villa Torlonia shot to prominence, following  a period of disuse, in 1925 when Fascist Leader Benito Mussolini moved in. The grounds also encompasses the Limonaia (Lemon Grove) and the delightful art nouveau-style (liberty-style in Italy) Casina delle Civette. Located near the Casina delle Civetta, the nine-roomed "Technotown" is pure fun for children with lava spewing volcanoes, a TV news programme explaining how news is reported and virtual trips to ancient Rome.
The top prize for fauna must surely go to Villa Ada with its cypresses, pine trees, pygmy palms, holm oaks and laurels. Together with its roller skating ring and facilities for jogging and physical exercises, it is a real favourite among Romans.
Meanwhile an attractive Renaissance Villa, elegantly standing midst the Celian gardens, now awaits: Villa Celimontana. A lush haven situated between the Colosseum and the Caracalla Baths, jazz enthusiasts are well-familiar with this park as, in the cool summer evenings, a music festival is organised every year. The Villa is also the headquarters of the Italian Geographical Society, where some of Italy's most important maps are preserved.
The largest landscape park in Rome, whose boundary stretches for 9 kilometres and encompasses more than one district, is Villa Pamphili, lying at the start of the Via Aurelia. A splendid view from its terraces looks out onto the magnificent Casino del Bel Respiro, better known as Villa Algardi, designed as a showcase for the Pamphili collection of sculptures and Roman antiquities. The summer and spring are perfect to pedal your way through town, going it alone or with an association that organises bicycle rides.
Condividi