You are here
Ostiense - Garbatella - S.Paolo
Pagina di snodo Tassonomia
Piazzale di San Paolo, 1
With its imposing Byzantine structure, the Basilica of St. Paul Outside the Walls is one of the four papal basilicas of Rome, the second largest basilica after St.
[...]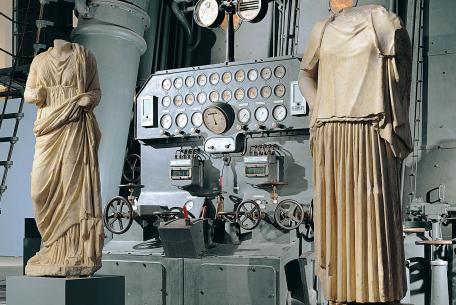 Industrial archaeology and popular tradition perfectly blend in the Ostiense district, which was indeed an industrial area in the early years of the last year.
The Centrale Montemartini is also to be found here. Opened in 1912, it was converted into an art museum for sculptures arriving from the Capitoline Museums. Still moving down along the Via Ostiense, the Basilica of St. Paul Outside the Walls gradually unfurls before our eyes.
Arising among the buildings of Ostiense is the cylindrical Gasometro, a location which Film Director Ferzan Ozpetek has fondly adopted.
A metro ride and we have arrived at Garbatella, the youngest of the historic districts, built in the Twenties and made famous by Director and Actor Nanni Moretti's driving his moped through its streets in "Caro Diario". It is the perfect spot for a walk through the gardens encompassing small distinctive villas, buildings and historical sites such as the Palladium, once a cinema and today a theatre.
Node Json Quartieri Block
Interactive map
Choose events and services nearby