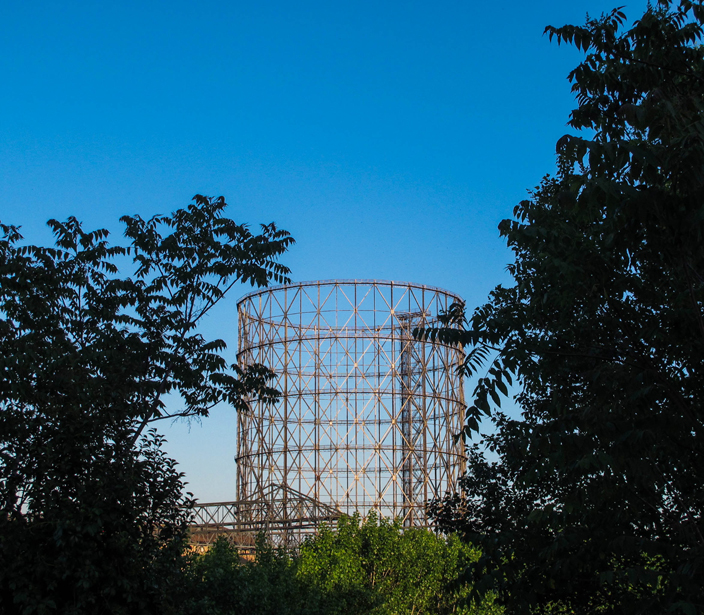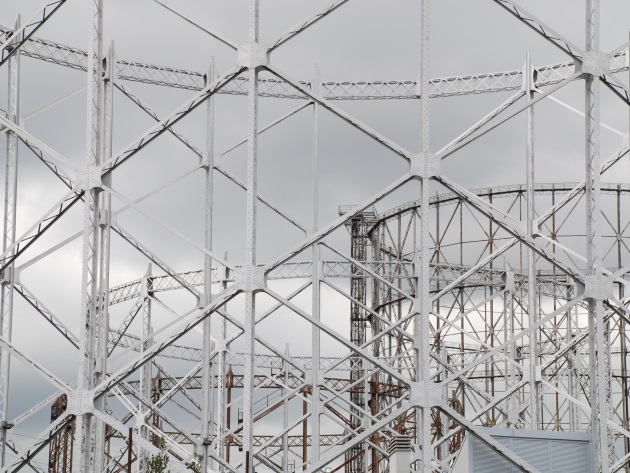 An industrial archeology structure owned by Italgas.
The San Paolo workshop started operating in July 1910. The works began in 1908. The original project was signed by the engineer Ulderico Bencivenga. Between 1908 and 1910, the Anglo-Roman Company presented to the Construction Commission the plans for production and auxiliary plants of two workshops on the Ostiense street.
This type of gas meter used in Rome is called a telescope as, through the lateral guides, the internal cylinder rises indicating the gas capacity. The three smaller gasometers which began operating between 1910 and 1912, were built by Samuel Cuttler & sons London. The first two have a capacity of 25,000 cubic meters. The third has a capacity of 60,000 cubic meters.
The large gasometer, then subjected to an architectural constraint, was instead built in 1936 by the company Klonne Dortmund and Ansaldo from Genoa, with a capacity of 200,000 cubic meters.
Various extraordinary maintenance interventions were carried out in the years 1966, 1968, 1974.
In 1923, with the exit of the English funds, the Anglo Romana took the name of Rome's Electricity and Gas Company. Within two years, the two companies split up and, on 21 December 1925, the Romana Gas company was established.
At the beginning of 1960, in anticipation of the imminent arrival of natural gas in Rome, very modern and high-potential plants were built for the catalytic reformation of methane. Between 1966 and 1967, SNAM acquired 30% of the Italgas property. In 1970, methane entered the first houses of the Spinaceto district, while 1981 marked the inauguration of works for the complete methanisation of Rome.
Currently, the Romana Gas (ITALGAS) business deals exclusively with the methane distribution network.
The buildings of the former gas factory were gradually decommissioned, starting in the 1960s.
Information
Address
POINT (12.4783366 41.870523)
Timetables
For information about tours, please contact GAS DISTRIBUTION ROME Via del Commercio, 9/11 00154 Rome
Condividi
Location
Gasometro (o Gazometro), Via del Commercio, 9/11
41° 52' 13.8828" N, 12° 28' 42.0132" E
To find out about all accessibility services, visit the Rome accessible section.