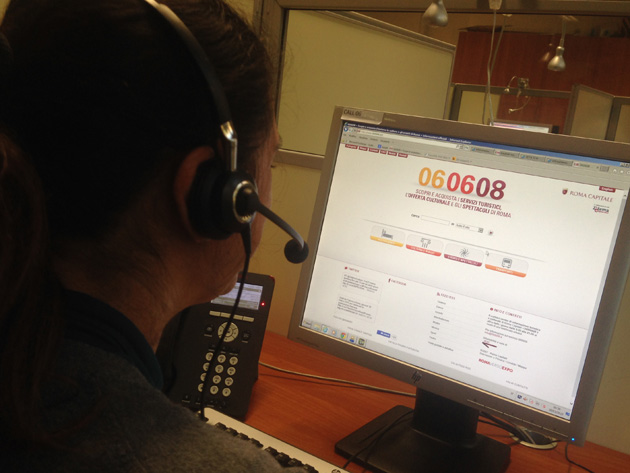 060608 is here, Rome City Council's telephone and internet service providing tourist and cultural information for Romans and visitors.
It is further possible through this specially designed service, created in partnership with the "Zètema Progetto Cultura", to purchase tickets for museums, exhibitions, shows and events and then pick them up there and then. As well as visiting our website (www.060608.it) , the service is also available by dialling 060608. The line is open every day from 9 a.m. to 7 p.m. at the same rate as a local phone call.
060608, thanks to the cooperation with Rome's public transport company ATAC, offers detailed and updated information about transport and traffic as well as mapping out the best way to get from "A" to "B". Life is moreover made a great deal easier thanks to aerial photographs and interactive maps supplied by Seat Yellow Pages so as  to pinpoint where it is all happening and where you want to go.
060608 is another welcome member of the "06060.." family, highly rated numbers simplifying and facilitating access to the city's services.
HOSPITALITY
and find all the useful tourist services you need when visiting Rome. Choose where to sleep, eat, how to get about town.
CULTURE AND LEISURE
and discover all the cultural activities Rome has to offer: museums, cultural institutions, exhibitions, places of worship, shows, view points, , sports grounds, parks where to shop or simply have fun or relax.
EVENTS AND SHOWS
and find out what is on in the city: cinema, music, theatre, conventions, dance, festivals, sports and fashion, workshops, symposiums and reading, markets, fairs, exhibitions.
With 060608 purchase your tickets for museums, exhibitions, shows and events in Rome.