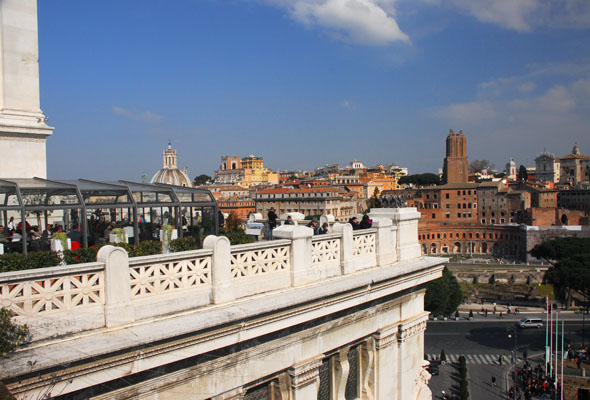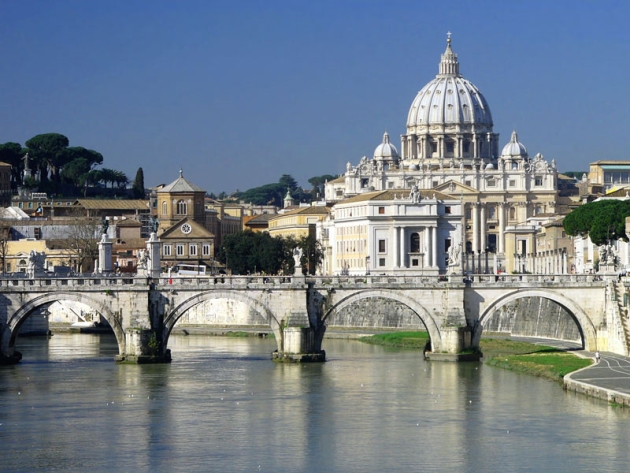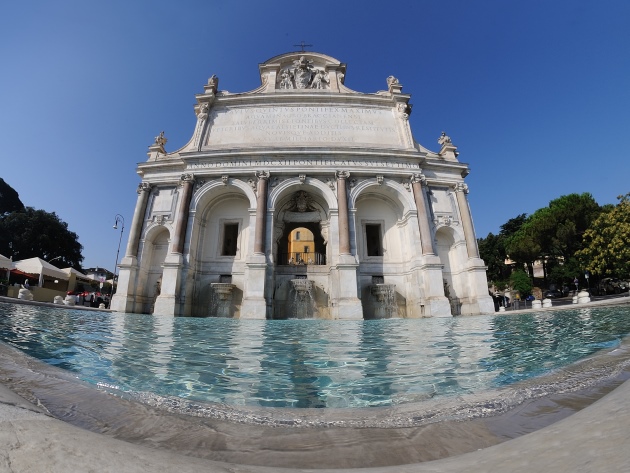 Walking through the ancient ruins of the city and browsing its characteristic alleys is an unforgettable experience for sure. Rome, however, offers panoramic viewpoints, each with its own characteristic, where to enjoy a splendid view and grasp all the magnificence of the city from a privileged perspective.
Let's discover the terraces and overlooks from where to admire the capital from above, trying to identify the most famous monuments, getting excited in front of the Roman sunsets, embracing with a single glance the entire historic center and beyond, up to the nearby Castelli Romani.
PINCIO
From the astonishing "Terrazza del parco", part of Villa Borghese, you can experience one of the most beautiful views in the world and a real suggestive sunset. You will be amazed by the panorama including a large part of the historic center of Rome: the underlying Piazza del Popolo, Saint Peter's Dome, Castel Sant'Angelo, the Monument to Vittorio Emanuele II, the 16th-century architecture of the ancient palaces and, from afar, the equestrian monument of Garibaldi on the Janiculum Hill.
JANICULUM HILL
From the viewpoint of this hill, located on the right bank of the Tiber, near the statue of Garibaldi, you can enjoy fascinating glimpses of the historic center. It is one of the Romans most favourite promenades and viewpoints, where the skyline of the city appears as an evocative succession of roofs, domes and monuments.
THE TERRACES OF THE VITTORIANO
From the "Terrazza delle Quadrighe", at the top of the Complesso del Vittoriano, you can apreciate a truly breathtaking view. Two panoramic lifts allow you to reach the highest point of the building, where you can see Rome from at 360 degrees. The view ranges from the majesty of the Colosseum and the Imperial Fora to the churches of the historic center, from the Tiber to the Ancient Jewish Ghetto, from Piazza del Campidoglio to the Quirinale, from the contemporary architecture of the EUR district to the characteristic Castelli Romani area.
ORANGE GARDEN
On top of the Aventine, one of the most elegant hills of Rome within the medieval walls of the ancient fortress of the Savelli family, is the fascinating Parco Savello, also known as the Orange Garden. It is a small rectangular garden taking its name from the trees planted in memory of San Domenico. It is one of the favourite places for lovers, with a wonderful view of Rome, going from the bend of the Tiber, including Rione Trastevere and Tiber island, to St. Peter's Basilica, up to the Janiculum Hill and Monte Mario.
ST. PETER'S DOME
You have to climb up 537 steps of the long spiral climb, called the "snail of Sant'Andrea", before reaching the panoramic external gallery of the magnificent St. Peter's Dome, designed by Michelangelo. Once you arrive, you can enjoy a breathtaking sight of Rome. The Eternal City is at your feet: the monuments, the villas, the gardens, the Tiber and, afar, the "Colli Albani" area and the sea.
Condividi