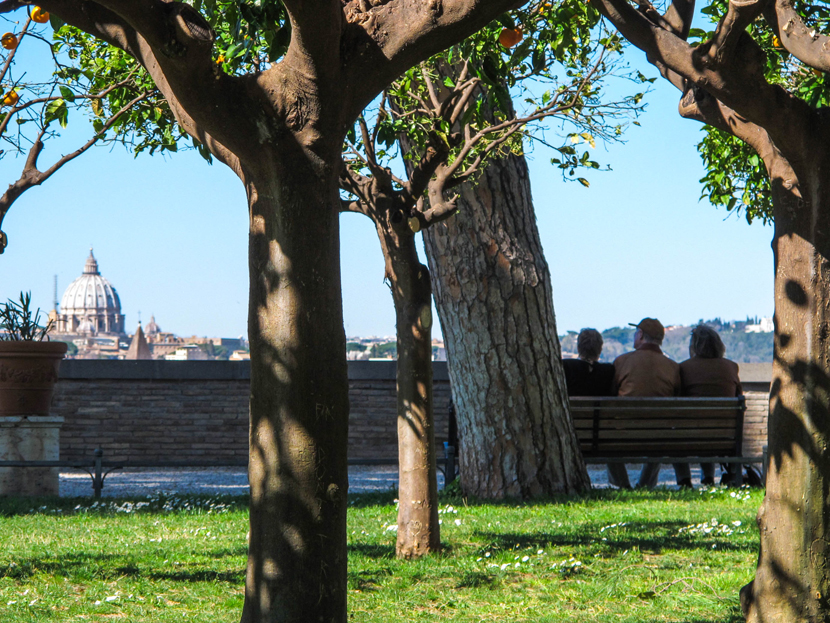 In the 14th century, the Savelli family built a castle on the Aventino, making the hill an unconquerable fortress. High medieval walls now enclose Parco Savello, also known as the Orange Garden, a small rectangular garden. A very famous one because, from its belvedere overlooking the river, you can enjoy a splendid view of Rome that goes from the bend of the River Tiber to Saint Peter Basilica.
The trees that give it its name are in memory of San Domenico, who founded his convent here.
The park was built in 1932 to a design by the architect Raffaele De Vico, who enhanced the space within the ancient walls. On the opposite side of the fence and of the apse of Santa Sabina, the traces of the old towers and the drawbridge are still visible.
The walls bear the signs of a subsequent restoration of the area, built at the end of the 16th century by the architect Domenico Fontana on behalf of Sixtus V. In addition to the walls, the 13th-century castle, and its extensions, only a few granaries, and warehouses remain underground, while the building was almost completely demolished in 1613.
Outside the Orange Garden on the right, you can reach Piazza dei Cavalieri di Malta, designed by the famous engraver Giovan Battista Piranesi in 1765. From the lock of the door that leads to the Villa dei Cavalieri, you can enjoy Saint Peter's Dome, framed by the garden hedges.
Informations
Address
POINT (12.480147 41.88441)
Timetables
from October to February 7.00 - 18.00
from March to September 7.00 - 20.00
from April to August 7.00 - 21.00
Contacts
Telephone:
Dipartimento Tutela Ambientale Servizio Giardini 06 67105457 - 71253
Web site:
www.sovraintendenzaroma.it/i_luoghi/ville_e_parchi_storici/passeggiate_parchi_e_giardini/parco_savello
Web site:
www.comune.roma.it/web/it/scheda-servizi.page?contentId=INF75539
Condividi
Location
Parco Savello o Giardino degli Aranci, Piazza Pietro d'Illiria, snc
Piazza Pietro d'Illiria, snc
41° 53' 3.876" N, 12° 28' 48.5292" E