Overlooked by the majestic St. Peter's Basilica, Piazza San Pietro owes its characteristic elliptical shape surrounded by the imposing colonnade to the work of Gian Lorenzo Bernini. It welcomes millions of pilgrims and tourists from all over the world into a symbolic embrace every year.
Every Sunday, at noon, the believers gather in this square to attend the Angelus Domini and receive the Papal blessing when the Pope looks out from the window of his study in the Apostolic Palace.
The portico was commissioned by Pope Alexander VII Chigi. It consists of 284 columns arranged radially on four rows. Gradually decreasing the diameter, Bernini managed to keep the proportional relationships between spaces and columns unchanged even in the external rows. Thanks to this solution, if you stand on the porphyry discs on the sides of the obelisk, you will see the colonnade as a single row of columns.
The obelisk placed in the centre of the square by Sixtus V is one of the Egyptian ones moved to Rome at the time of Caligula. It is the ancient "aguglia" (Roman Imperial eagle) of the Middle Ages. According to legend, the ashes of Caesar were preserved in a bronze globe on the tip (removed by Sixtus V). Today, at the top is the bronze emblem with the mountains and star of the Chigi Family and a relic of the Holy Cross.
Located symmetrically in the centre of the two hemicycles of Bernini's colonnade and aligned with the Vatican Obelisk, the "almost" twin fountains are due to the ingenuity of two of the main protagonists of the architectural history of the square: Carlo Maderno, creator of the facade of the Basilica, and Gian Lorenzo Bernini, a great exponent of the Roman Baroque and brilliant arranger of the square.
You may also be interested in
The Vatican Museums and The Sistine Chapel
Condividi
The National Museum of Saint Angel Castle
Condividi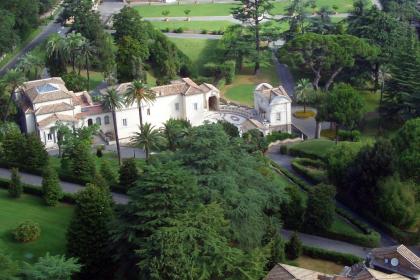 Condividi
Information
Address
POINT (12.457291 41.902357)
Condividi
Location
Piazza San Pietro, Piazza San Pietro
41° 54' 8.4852" N, 12° 27' 26.2476" E
To find out about all accessibility services, visit the Rome accessible section.