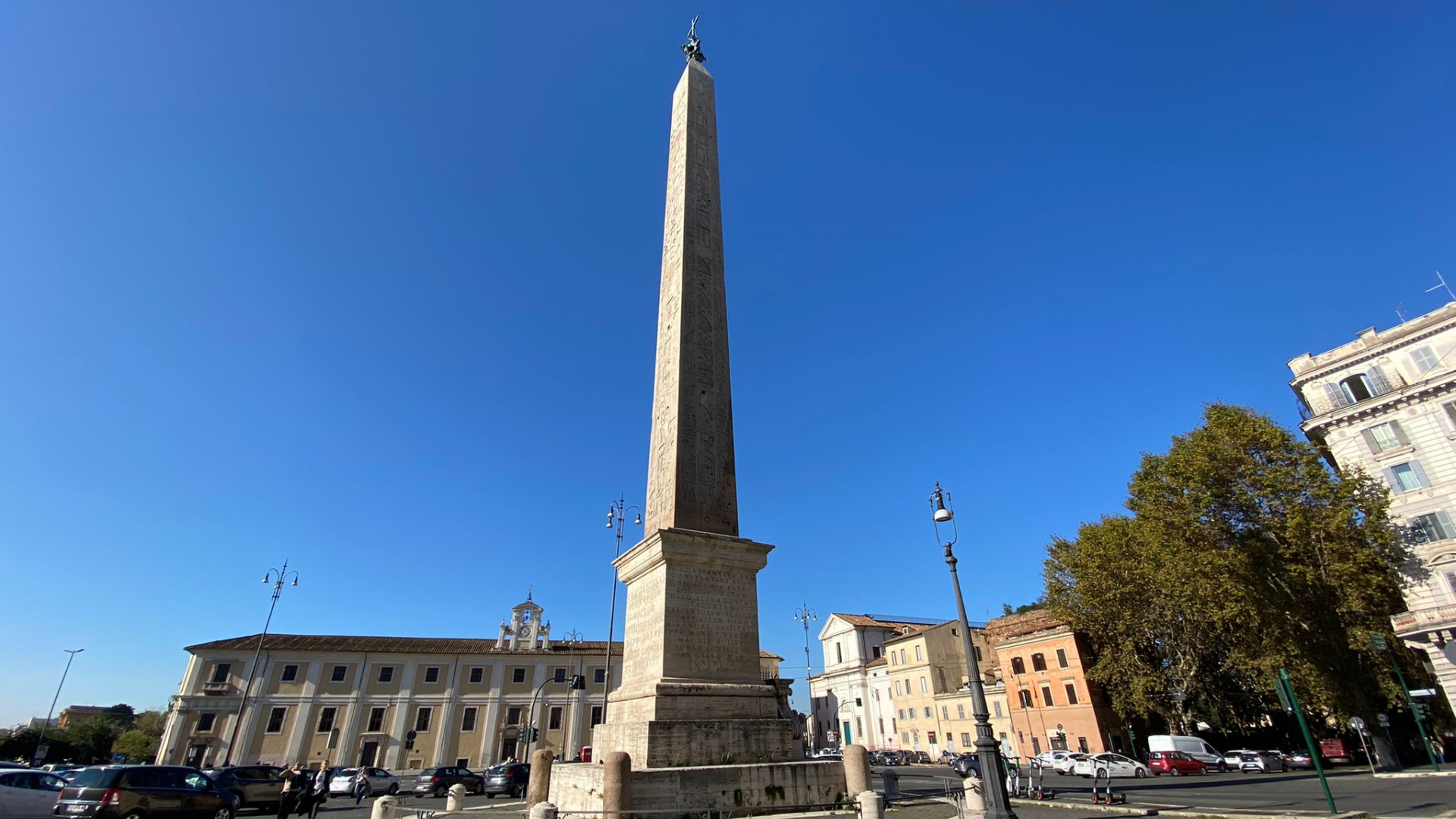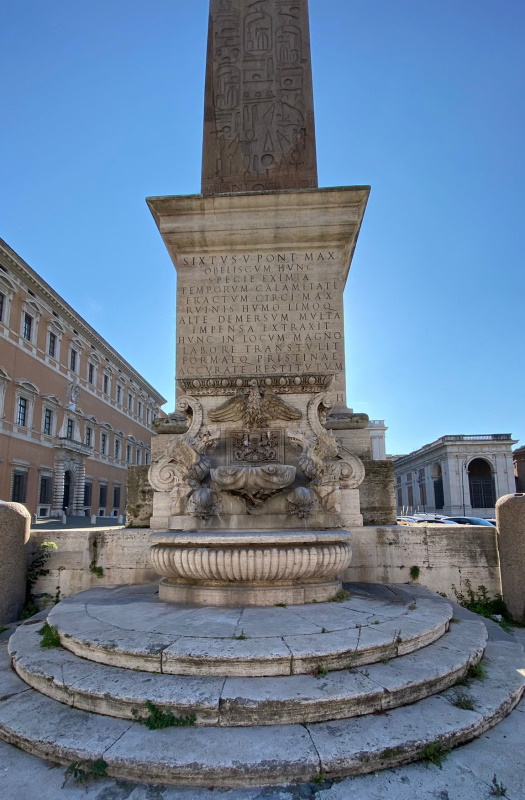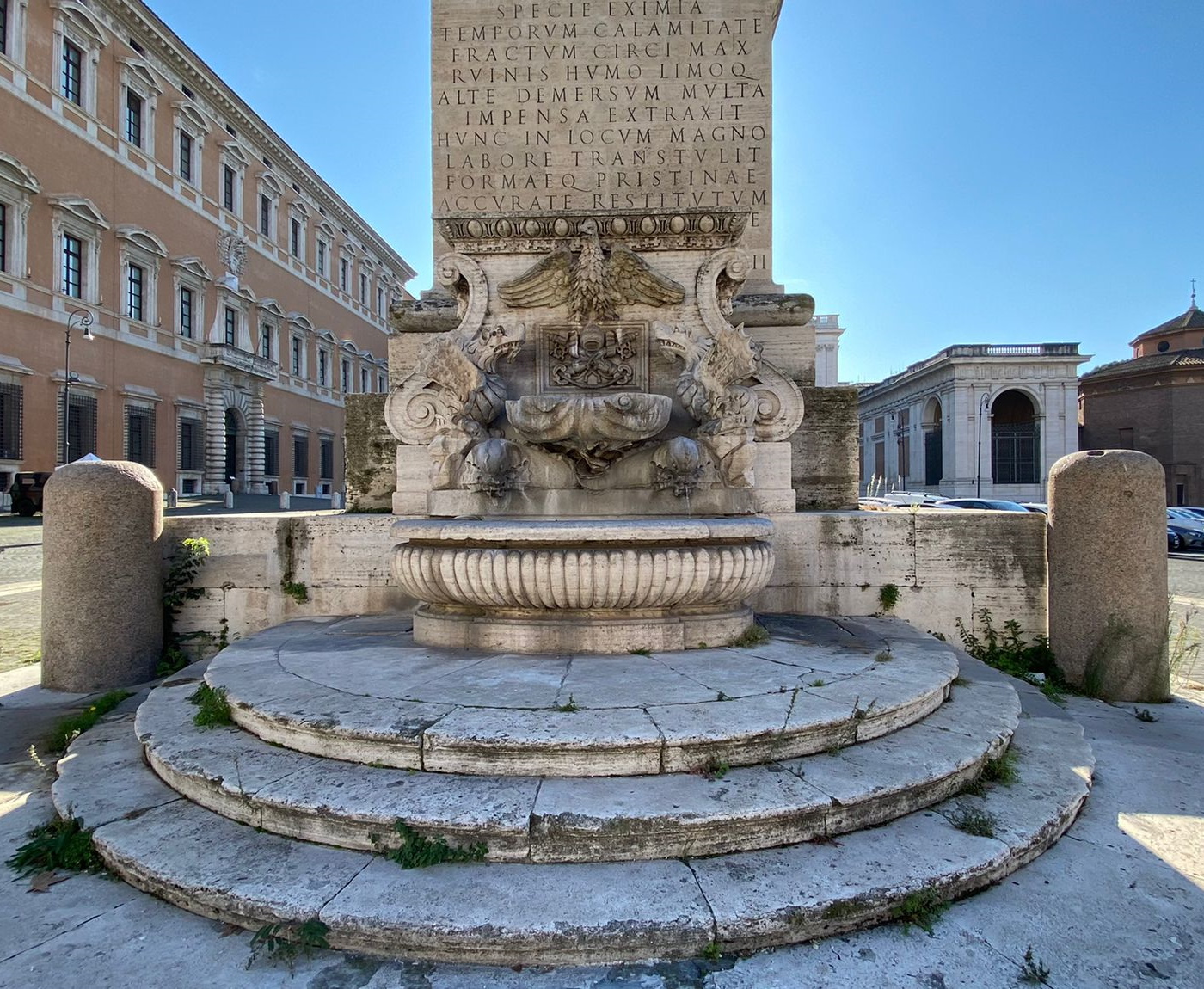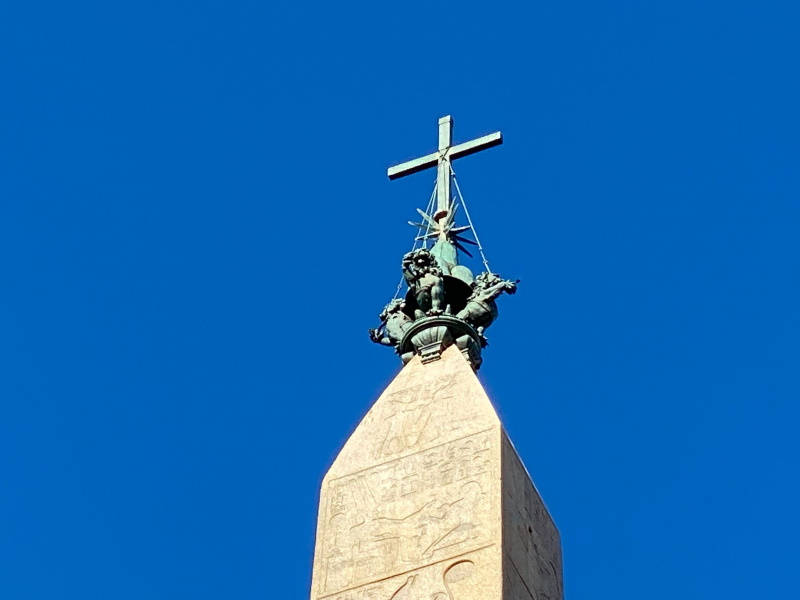 Located in Piazza di San Giovanni in Laterano, near the basilica of the same name, the Lateran Obelisk is the tallest erected of Egyptian origin in the world. It is made of red granite and comes from the Aswan area. Its height is 32.18 meters and, including the cross and the base, reaches 45.70 meters. It weighs 455 tons. It was the last, among the Capitoline obelisks, brought to Rome.
The obelisk was built by Tutmosis III (1481 BC - 1425 BC), pharaoh of the XVIII dynasty of Egypt, in honor of his father Tutmosis IV and stood in front of the temple of the god Amon in Thebes.
The sides are completely decorated, and, among the various inscriptions, you can see an image of the pharaoh making offerings to the divinity. The other engravings recall that its decoration took 35 years of expert craftsmen's work.
The grandiose obelisk was transported along the Nile as far as Alexandria by order of Emperor Constantine (274-337 AD). The death of the emperor (337) interrupted the transport to Rome. The enterprise was completed, after various vicissitudes, by Constantine's son, Constantius II, in 357. The obelisk arrived at the port of Ostia by an enormous ship built for the occasion and moved by 300 rowers. Dragged along the river Tiber on a gigantic raft and then placed on solid wagons, it reached the Circus Maximus to stand alongside the Flaminian Obelisk, now in Piazza del Popolo, brought to Rome by Augustus 3 centuries earlier.
Being the first great monument erected in Rome after the affirmation of Christianity, it soon became the symbol for the Roman population of the victory and supremacy of the new religion over paganism.
About a century later, it fell, perhaps following an attack, and only in the 16th century, by order of Pope Sixtus V who also offered a prize to those who found it, was it sought after and eventually found under 7 meters of earth and mud, broken into three sections.
The Pope had it restored and erected on the Lateran square in place of the equestrian statue of Marcus Aurelius, placed on Piazza del Campidoglio.
In 1588, the architect Domenico Fontana restored it and equipped it with a new marble base. On its top, he placed a cross and the heraldic symbols of the Peretti family, surrounded by four lions, the work of Ludovico del Duca.
The Lateran Obelisk, embellished with a beautiful 17th-century fountain, was inaugurated on 3 August 1588.
You may also be interested in
The Basilica of St. John Lateran
Condividi
The Fountain of the Lateran Obelisk
Condividi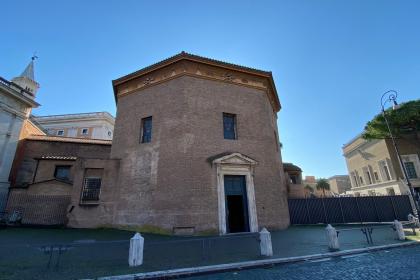 Condividi
Information
Address
POINT (12.504396 41.886874)
Condividi
Location
Obelisco Lateranense, Piazza di San Giovanni in Laterano
Piazza di San Giovanni in Laterano
41° 53' 12.7464" N, 12° 30' 15.8256" E
To find out about all accessibility services, visit the Rome accessible section.