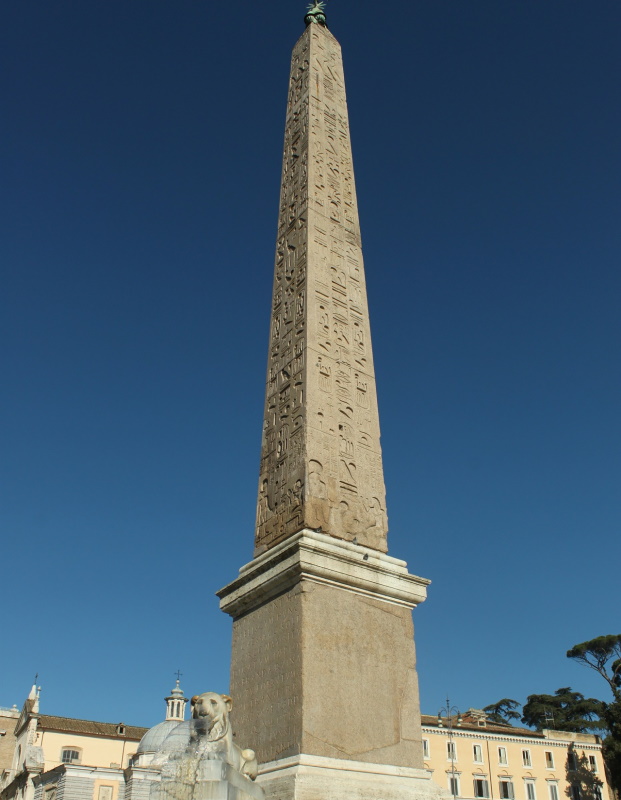 In the splendid setting of Piazza del Popolo, stands the 23.9 metre-high obelisk dating from the 14th century BC. It was the first obelisk to be transferred to Rome in the time of Augustus, to celebrate the victory over Egypt, and it was originally set up in the Circus Maximus. Its present position, at the crossroads of the three streets that make up the so called trident (Via del Corso, Via di Ripetta and Via del Babuino), dates from 1589 and is due to the untiring work of the town-planner pope Sixtus V and his architect Domenico Fontana. The architect and the pope moved three obelisks into the areas of three Roman basilicas: St. Peter's, Santa Maria Maggiore and St John Lateran.In the past the obelisk of Piazza del Popolo served as a source of fun for the Romans who, after blindfolding a playmate, would force him to walk from the obelisk as far as Via del Corso. It would be very difficult for the hapless victim to succeed, because he would be blocked by the obstacles he found along his way.
Information
Address
POINT (12.476451 41.910285)
Condividi
Location
Obelisco Flaminio, Piazza del Popolo
41° 54' 37.026" N, 12° 28' 35.2236" E
To find out about all accessibility services, visit the Rome accessible section.