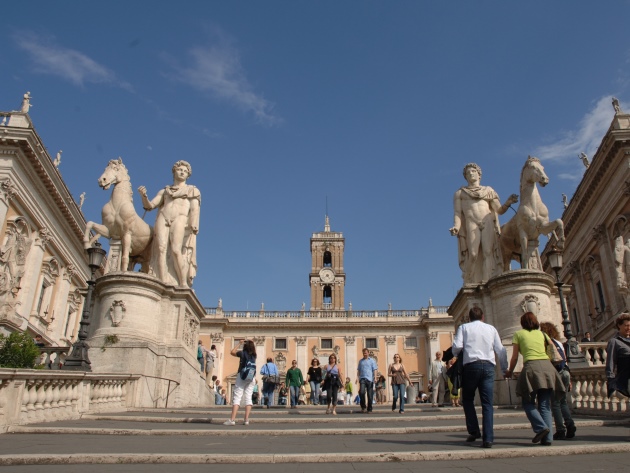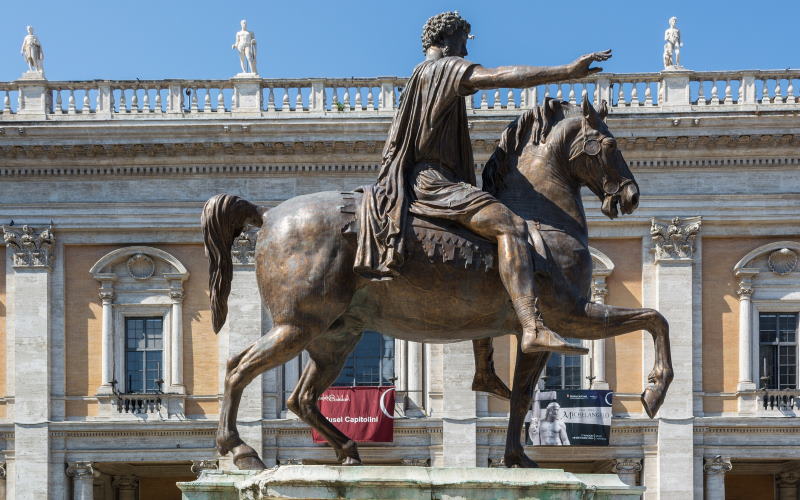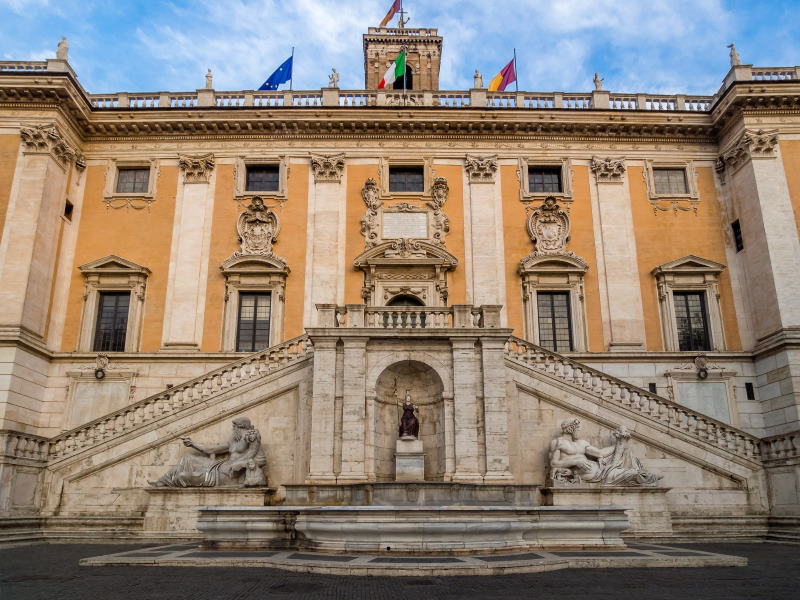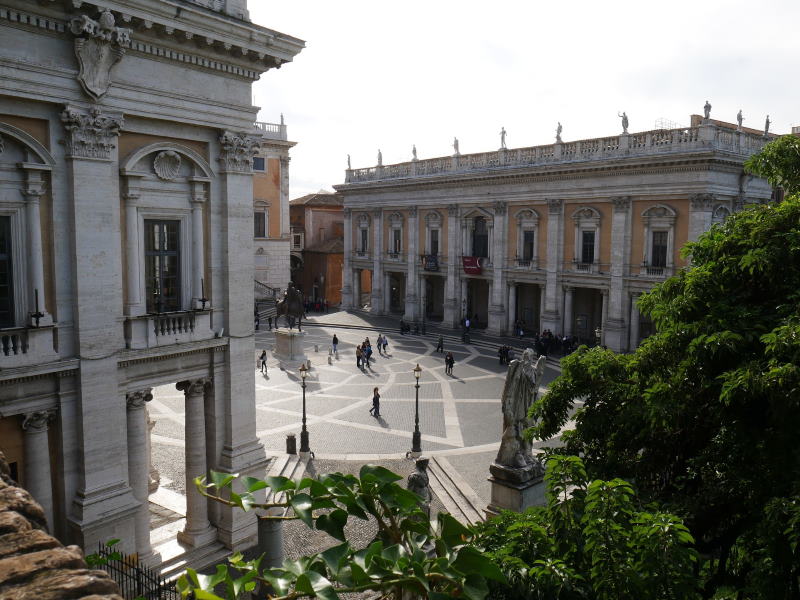 The first square to be built following Michelangelo's criteria of a uniform design, in modern Rome, stands on Capitoline Hill (Capitolium), where a very ancient village was located and where numerous temples were dedicated to Roman gods.
Piazza del Campidoglio, until then seriously neglected, was deeply modified in 1536 when Pope Paul III commissioned Michelangelo to complete the overall arrangement of the square, on the occasion of the visit to Rome of the Spanish Emperor Charles V.
The Florentine architect built an elegant podium for Marcus Aurelius' equestrian statue and placed it in the centre of the hill in 1537, creating the centrepiece of the new urban design.
Michelangelo also designed an imposing wide step staircase, named the "Cordonata" in order to allow knights to climb easily, culminating in the solemn balustrade, surmounted by classical marble groups which were placed here in the following decades.
About 1546, Michelangelo built the facade of the Palazzo Senatorio (backdrop to the main view), today housing the city's Municipal Council, and created a two-flight front staircase, framing the splendid fountain. Palazzo Senatorio's bell tower, built to a design by Martino Longhi il Vecchio in the last 25 years of the 16th century, housed the famous patarina bell, which the Romans took from the Viterbesi in 1200 and which they used to announce historical or particular events, such as  the pope's election coronation or death, and the papal cortege passing by. Today's bell dates back to the 19th century but it is still called patarina and rings on the occasion of Rome's birthday on 21st April and the election of the mayor.
Michelangelo also worked at the renovation of the Palazzo dei Conservatori and began building a second palace, the Palazzo Nuovo (now the site of the Capitoline Museums the world's first public museum opened in 1734), opposite the first palace, so as to delimit the square on three sides. The Palazzo Senatorio was completed by Giacomo della Porta after Michelangelo's death, and the Palazzo Nuovo by Carlo Rainaldi. Construction ended in 1655.
Although it took many years and various architects to construct the Piazza del Campidoglio, today it is characterised by an admirable homogeneous style.
You may also be interested in
Condividi
The Trajan's Markets - The Museum of the Imperial Fora
Condividi
Condividi
Information
Address
POINT (12.482923 41.893366)
Condividi
Location
Piazza del Campidoglio, Piazza del Campidoglio
41° 53' 36.1176" N, 12° 28' 58.5228" E
To find out about all accessibility services, visit the Rome accessible section.