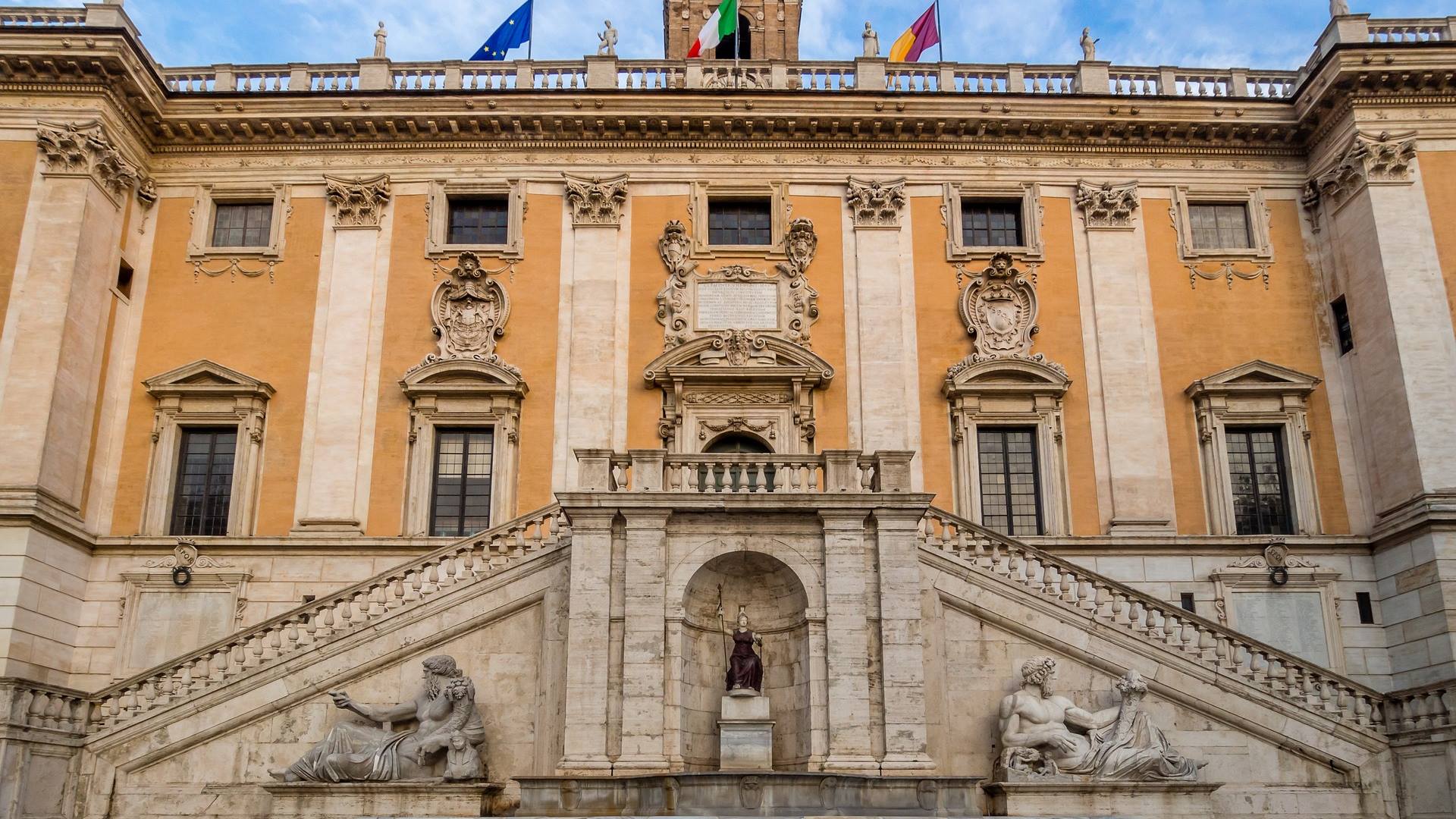 The Palace stands on Piazza del Campidoglio, where, since 196 BC, was a temple dedicated to Veiove rebuilt in the 1st century AD according to the appearence which it had preserved in. It had a rectangular plan with a small protruding portico on one of the entrance sides, a very unusual plan in Roman temples. The travertine podium, part of the small portico and the cell are the remains of the ancient temple. The Tabularium was built next to the Palazzo Senatorio in 78 BC as a Roman public archive, since the tabulae, ie the laws and public documents, were kept there.
What remains of the Tabularium is only an arcaded gallery which was perhaps a public passage. In the Middle Ages the Roman remains were incorporated into a fortress; in 1143, at the birth of the free Municipality of Rome, it became its seat and the first senators resided there. The first appearence of the Palazzo Senatorio is handed down to us only by scarce sources that represent it as a building with two towers, one of which housed the Patarina, the bell taken from Viterbo as a spoils of war.
At the end of the 14th century, the Palace assumed its monumental aspect with the facade with three orders of arches. But already during the same century, the building began to close in within its walls and many arches were walled up. After various extensions and changes, at the behest of Pope Paul III, the project for the renewal of the complex of Capitoline buildings, conceived in 1537 by Michelangelo, was made. In this project there are, among other things, the double flight staircase and the balustrade that ends the building which must have been adorned with statues.
The project was followed by Michelangelo until his death and was substantially modified by his followers. The current facade is from the end of the 16th century and was made by Giacomo della Porta and Girolamo Rainaldi. The two huge statues of rivers, the Nile and the Tigris transformed into the Tiber, come from the Terme di Costantino del Quirinale; in the center is the small statue of "Minerva-Goddess Roma". The tower was built between 1578 and 1582 by Martino Longhi the Elder. The Constituent Assembly of the Roman Republic had its seat here in 1849 and it was also dismissed here by the French troops. The Council Hall, which keeps the flags of the Municipality and the 22 Rioni and coats of arms of popes and senators on the walls, has housed the Municipal Council of Rome since 1870.
Information
Address
POINT (12.483342 41.892692)
Timetables
Palazzo Senatorio is open for visitors during special events only.
Contacts
Telephone:
06 69941531/2/3/4 - 06 67103898/9
Condividi
Location
Palazzo Senatorio, Piazza del Campidoglio, 1
Piazza del Campidoglio, 1
41° 53' 33.6912" N, 12° 29' 0.0312" E
To find out about all accessibility services, visit the Rome accessible section.