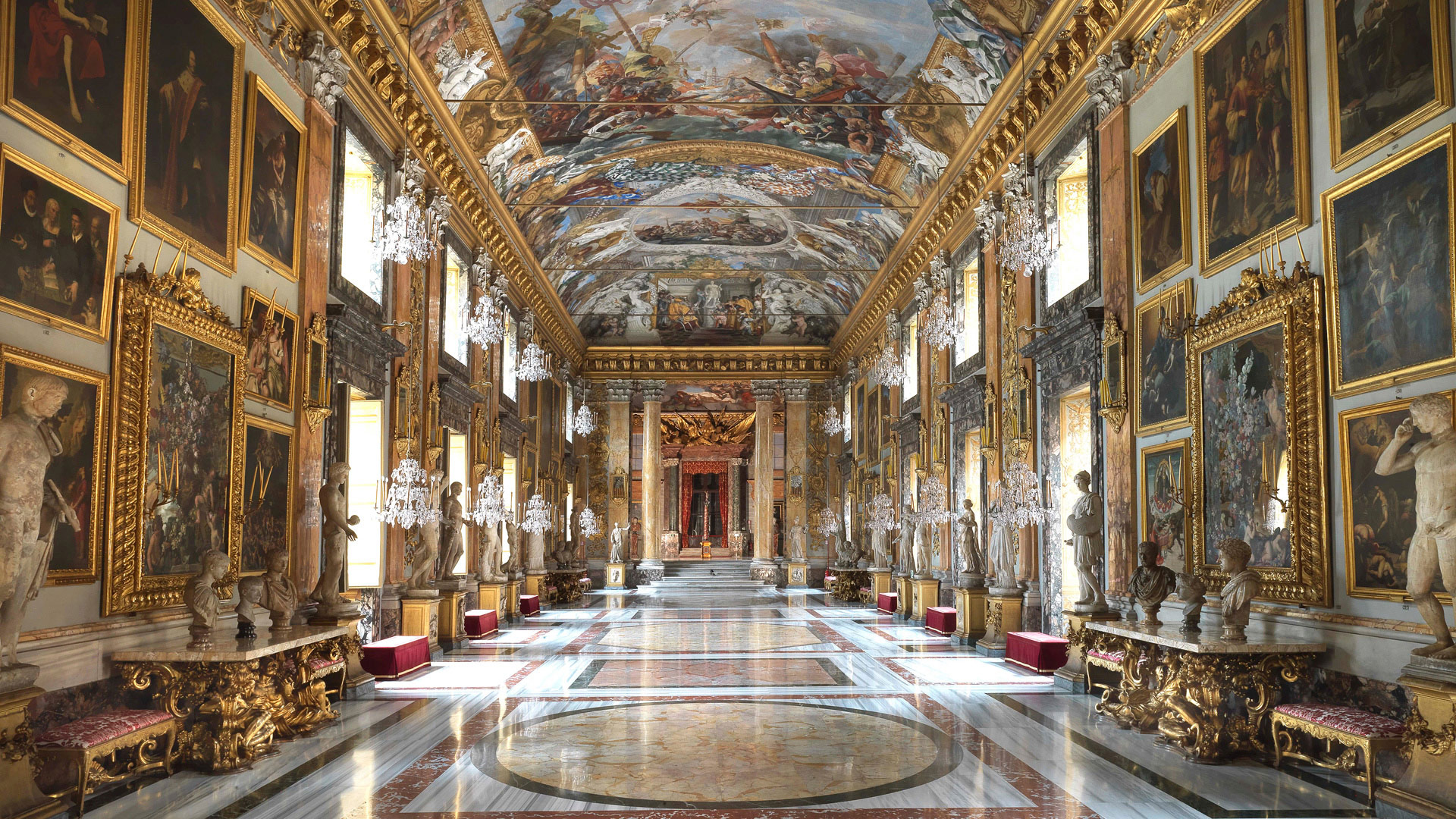 Galleria Colonna, an authentic jewel of the Roman Baroque located inside the palace of the same name, was established in 1654 by Cardinal Girolamo I Colonna and his nephew Lorenzo Onofrio Colonna. The realization of the works was entrusted to the architect Antonio Del Grande. After his death in 1671, they were integrated by Gian Lorenzo Bernini, Johan Paul Schor and Carlo Fontana. The Gallery was inaugurated in the year 1700 by the son of Lorenzo Onofrio, Philip II.
From the very beginning, the Gallery was conceived as a large representative room to worthily celebrate the victory of the Christian fleet over the Turks at the Battle of Lepanto in 1571. The commander of the papal fleet, Marcantonio II Colonna, is depicted at various times throughout the vault of the Great Hall of the Gallery and in the Hall of the Colonna Bellica. The decoration of the vaults (Episode from the life of Marcantonio II Colonna, Apotheosis of Marcantonio II Colonna, Allegory of Marcantonio II Colonna in Lepanto) made by the painters Schor, Coli, Gherardi, Ricci and Chiari, was completed in 1702.
The magnificent collection, divided between the Hall of the Colonna Bellica, the Great Hall, the Room of the Throne, the Tapestry Room, the Yellow Room, the Chapel Room, the Primitive Room and the Embroidery Room, includes paintings by artists of the calibre of Bronzino (Venus, Cupid and Satyr, Madonna with the sleeping Child), Tintoretto (Narcissus at the source), Guido Reni (St. Francis praying with two angels), Guercino (Martyrdom of St. Emerenziana, St. Paul the hermit, Moses with the tables of the law, the Archangel Gabriel), Annibale Carracci (Il Mangiafagioli), Salvator Rosa (San Giovanni Battista in a cave), Michele di Ridolfo del Ghirlandaio (The Night, The Dawn and Venus and Love) and Gaspard Dughet, author of many rural subject paintings.
The Gallery also features sumptuous decorations, splendid mirrors, tapestries, and fine furnishings.
A curiosity: set on the flight of stairs leading to the Great Hall, you can see a cannonball. It has been there since 1849, when the French under the orders of General Oudinot shot it from the Janiculum, during the Roman Republic.
You may also be interested in
Information
Address
POINT (12.484932 41.89743)
Timetables
For the opening times and guidelines please check the official website
Contacts
Email:
info@galleriacolonna.it
Instagram:
www.instagram.com/galleriacolonna/
Online purchase:
www.tosc.it/tickets.htm?affiliate=T2C&sort_by=event_datum&sort_direction=asc&fun=erdetail&doc=erdetaila&erid=1614736
Web site:
www.galleriacolonna.it
Accessibility: services available
Condividi
Location
Galleria Colonna, Via della Pilotta, 17
41° 53' 50.748" N, 12° 29' 5.7552" E
To find out about all accessibility services, visit the Rome accessible section.