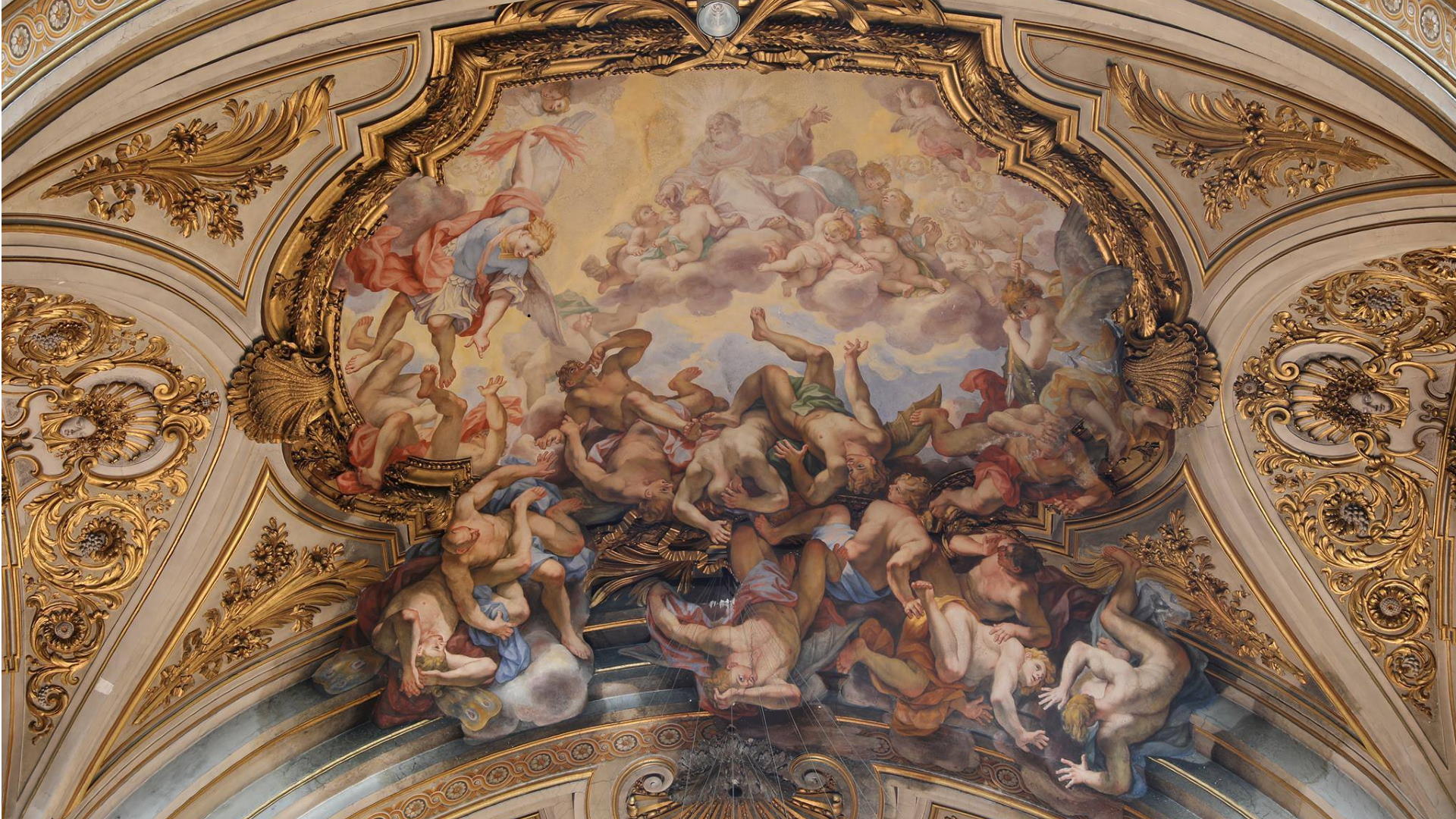 Dedicated to the twelve Apostles, it is the only basilica in Rome that was not built on pre-existing Roman structures. Probably founded in the 6th century by Pope Pelagius, the church was severely damaged by an earthquake and was restored to use in the 15th century by Pope Martin V whose family, the Colonnas, owned the surrounding area. Dating back to the same century are the portico that precedes the façade and the enormous fresco in the main apse by Melozzo da Forlì, showing the Ascension of Christ. The fresco was removed in 1711 and divided into bits, now to be seen at the Vatican Museums and the Quirinal Palace.
At the beginning of the 18th century the church was rebuilt from its foundations by Pope Clement XI who entrusted the work to a group of architects including Carlo Fontana and his son Francesco. The neoclassical facade is by Giuseppe Valadier (1827), hidden by the 15th-century two-storey entrance portico with nine arches, built by Baccio Pontelli. Pontelli's design for the portico was changed when Carlo Rainaldi walled up the arches on the upper level and added the balustrade with statues of Christ and the Apostles around the year 1665.
The solemn and severe interior includes works by Antoniazzo Romano and tomb reliefs from the 15th century, one of which by Mino da Fiesole. The best known works are the fresco on the vault by Baciccio, depicting the Triumph of the Order of St Francis; the funerary monument of Pope Clement XIV by Antonio Canova (1787) and the large fresco by Giovanni Odazzi with Rebel Angels Defeated by St Michael, characterized by an extraordinary illusionistic effect. Also executed by Canova is the neo-Classical memorial of 1807 to the engraver Giovanni Volpato, you can admire in the basilica Portico. 
Since 2008, in an interspace between the church and a neighboring building it's possible to admire the frescoes of the funerary chapel of Cardinal Bessarion. It was completed and frescoed in 1483 by Antoniazzo Romano and Melozzo da Forlì, but was apparently derelict and its frescoes whitewashed when the Odescalchi Chapel was built within it in the 18th century. Discovered in 1959 during restoration work, the chapel is one of the most important places for the history of 15th century painting in Rome. 
Information
Address
POINT (12.482831 41.898124)
Timetables
For the timetable of the masses and visiting conditions, please consult the contacts.
Contacts
Email:
frcelestino@tiscali.it
Web site:
www.ofmconv.net
Condividi
Location
Basilica dei Santi XII Apostoli, Piazza dei Santi Apostoli, 51
Piazza dei Santi Apostoli, 51
41° 53' 53.2464" N, 12° 28' 58.1916" E
To find out about all accessibility services, visit the Rome accessible section.