The building was erected in Campo Marzio, in the place that tradition had consecrated to the scenic performances, connected with the temple of Apollo.
The project was started by Julius Caesar and taken over by Augustus. Probably completed in 17 BC, Teatro di Marcello was dedicated in 13 or 11 BC to the memory of Marcello, nephew and successor of the emperor, who died in Baia in 27 BC.
Teatro di Marcello was restored by Vespasiano and Alessandro Severo and still in operation in the 4th century; later, due to its elevated position near the river, it was transformed into a fortress, owned by the Pierleoni and Fabi families.
In the 16th century, Baldassarre Peruzzi erected the still existing building, on behalf of the Savelli family and purchased two centuries later by the Orsini family.
The lower part of the building, corresponding to the Roman structures, was acquired by the Municipality of Rome in the 1930s. It was excavated and restored after proceeding with a radical liberation of the area.
It was an impressive theatre with a diameter of 130 metres. The semicircular cavea was on substructures in blocks of tuff, reticulated work and brick, with white marble terraces.
Outside, it was characterized by a triple-order travertine facade, and originally had 41 arches flanked by pilasters and semi-columns – of the Doric and Ionic style for the two lower levels, still preserved.
The keystones of the lower floors arches were decorated with colossal marble theatrical masks, relating to tragedy, comedy and satirical drama.
36 bronze vases facilitated the acoustics. The theatre was covered by a velario and had a capacity of 15,000 seats, 20,000 in case of need.
The enhancement of cultural heritage and the improvement of street connections and urban standards were at the centre of the recent renovation project of the area. At its completion, the passage that connects via Montanara - what remains of the square of the same name at the foot of the Tarpea Rock, demolished in the 1930s - with the Portico di Ottavia and the Ghetto reopens to the public with free access.
The new pedestrian pathway has been built so as not to interfere with the archaeological remains and is delimited by bollards and chains that redesign the accessibility of the area. The new definition of the spaces allows to get closer to the theatre to admire the majesty of this architectural masterpiece, up to the edge of the arches, enhancing the visitor experience.
You may also be interested in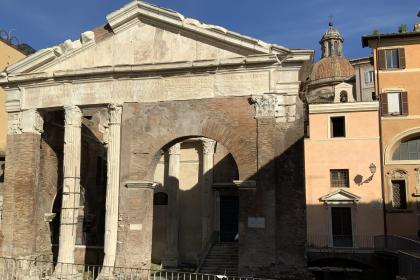 Condividi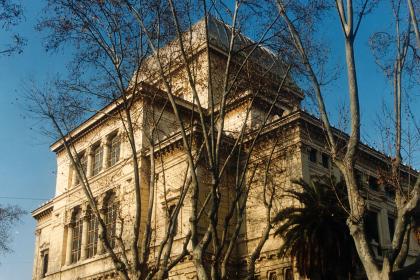 Condividi
Condividi
Information
Address
POINT (12.479938 41.892202)
Timetables
L'edificio è visibile solo dall'esterno
Contacts
Web site:
www.sovraintendenzaroma.it/i_luoghi/roma_antica/monumenti/teatro_di_marcello
Condividi
Location
Teatro di Marcello, Via del Teatro di Marcello
Via del Teatro di Marcello
41° 53' 31.9272" N, 12° 28' 47.7768" E
To find out about all accessibility services, visit the Rome accessible section.