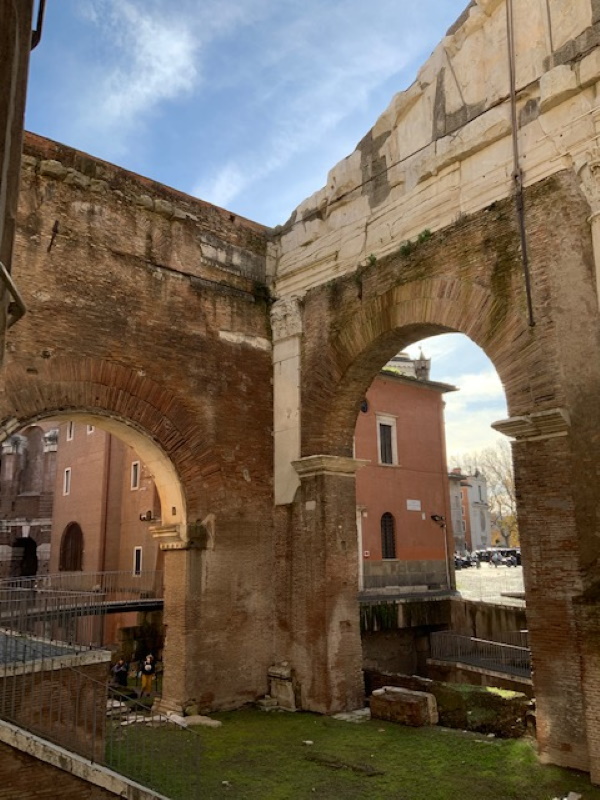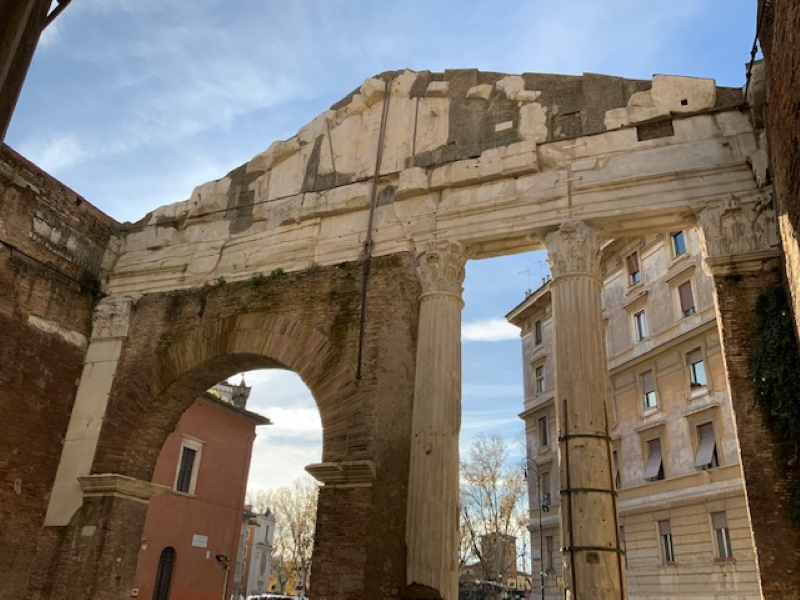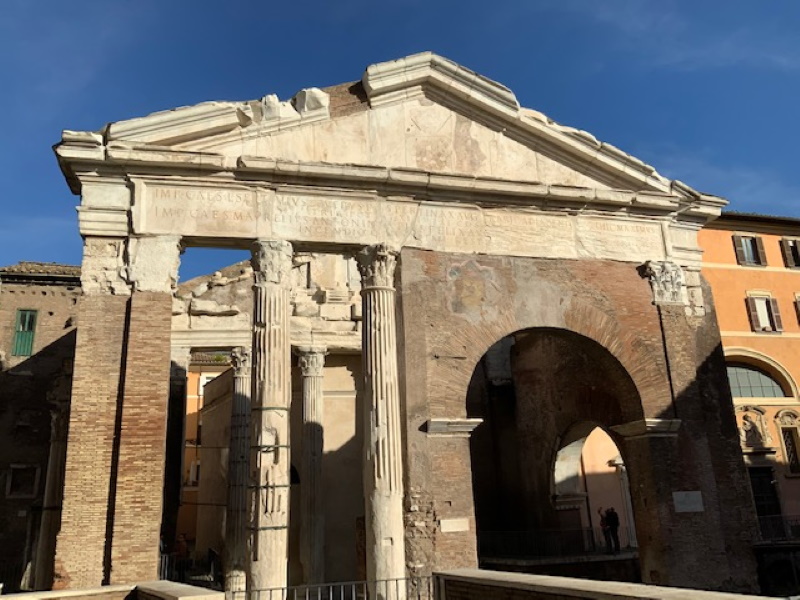 The complex of the Portico d'Ottavia is the only one preserved of the large porticoes that limited the square of the "Circo Flaminio" on the northern side. This area today corresponds to the ancient ghetto. Between 27 and 23 BC, it was rebuilt by Augustus, in place of the oldest Portico of Metellus, and dedicated to his sister Ottavia.
It was later restored and partially rebuilt in 203 by Septimius Severus, after a fire in 191, a period to which most of the currently visible remains belong.
The complex, a four-sided portico of 119 x 132 meters, included the "Temple of Juno Regina", which was then joined by the "Temple of Jupiter Stator", the first in Rome entirely in marble, two libraries, Greek and Latin, and the Curia Octaviae, a large public meeting space. Today, only the south-eastern corner and the entrance vestibule of the complex remain.
In ancient times, its interior was a sort of open-air museum, because it housed a large number of artworks, such as the turma Alexandri, a bronze work depicting Alexander the Great and his knights, created by Lysippos.
In the Late Antique and Medieval Age, the porticoed spaces of the monument were used for the sale of fish, characterizing this area as "Forum piscium" or "Pescheria Vecchia", the main city fish market that remained active until the end of the 800. The stone to be found to the right of the Portico's great arch is all that has survived. The Latin inscription on the arch speaks of the tradition whereby the Conservatori or Magistrates of Capitol Hill should be given every fish, from the head down to the first fin, whose length was longer than this stone.
In the last quarter of the 8th century, the spaces of S. Angelo in Pescheria church were built on the structures of the Portico and the adjacent monuments, incorporating one of the rear columns and part of the tympanum, still visible inside the church.
It was from the Portico of Octavia that, in 1347, Mid-14th century Politician Cola di Rienzo set out to conquer Capitol Hill on the day of Pentecost.
You may also be interested in
Condividi
The tradition at the table; the Roman-Jewish cuisine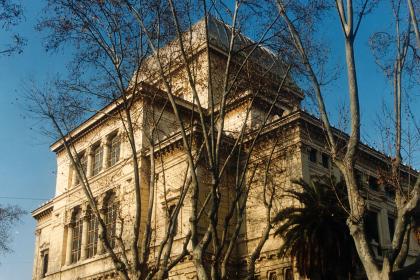 Condividi
Information
Address
POINT (12.4783969 41.8923213)
Contacts
Web site:
www.sovraintendenzaroma.it/i_luoghi/roma_antica/monumenti/portico_d_ottavia
Condividi
Location
Portico d'Ottavia, Via del Portico d'Ottavia, 29
Via del Portico d'Ottavia, 29
41° 53' 32.3556" N, 12° 28' 42.2292" E
To find out about all accessibility services, visit the Rome accessible section.