You are here
Termini - Piazza della Repubblica - Via Veneto
Pagina di snodo Tassonomia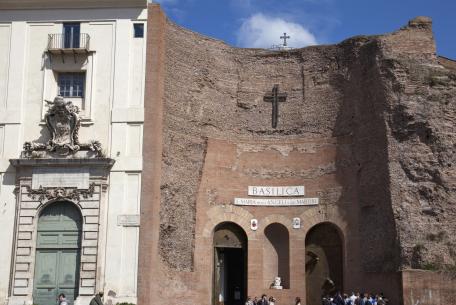 Viale Enrico De Nicola, 79
Established in 1889 to house the antiquities of Rome, the National Roman Museum preserves the most important archaeological collection in the worl
[...]
Rome's Termini railway station is the most important in both the city and the country. It is easy to get anywhere in the city from here using either the Metro A line or the buses which leave from the square outside.
Piazza della Repubblica is just around the corner from Termini, which is known by Romans as "Piazza Esedra", a name in use until the end of the Fifties. Shooting off from the square, whose centre is dominated by a splendid fountain, is one of the capital's best known roads: Via Nazionale, crammed with bars, shops and book shops.
If instead of going down Via Nazionale, you should choose to cross over Piazza della Repubblica, you will find yourself in one of the world's most celebrated streets: Via Veneto.
Lined with beautiful trees, Via Veneto, winding its way from Piazza Barberini to the Villa Borghese public park, was virtually a film set in its own right in the Sixties, buzzing with film stars, models, intellectuals and oh so many paparazzi!
Although it has lost a great deal of its allure since then, its charm nevertheless remains with luxury hotels and elegant bars with tables in neat rows on the streets outside.
Node Json Quartieri Block
Interactive map
Choose events and services nearby