Beautiful monumental expanse, Piazza della Repubblica was formerly called Piazza Esedra. It takes its name from the big exedra of the Roman Baths of Diocletian, whose perimeter traces the semicircular colonnade of the square. Piazza della Repubblica is a late 19th-century work by the great Turin architect Gaetano Koch, who also designed the imposing buildings framing the square.
The Basilica of Santa Maria degli Angeli e dei Martiri, a work by Michelangelo Buonarroti obtained from a wing of the Roman baths, overlooks the square. On the magnificent floor of the church, you can admire the Sundial or Clementine Line. Inlays of polychrome marble represent the zodiac signs of the summer and autumn constellations and the spring and winter constellations.
Today, in the center of Piazza della Repubblica you can admire the beautiful Fountain of the Naiads, which constitutes the exhibit of the Aqua Marcia, adduced by Quintus Marcius Rex in 144 BC from the upper valley of the Aniene river near Arsoli.
In 1885, with the approval of the Town Plan and the start of significant urban renovation works, the arrangement of the large Piazza Esedra was settled: the definitive Aqua Marcia exhibit should rise in the center of the square, in the background of the axis of Via Nazionale.
In 1897, Mario Rutelli's project for the setting up of the fountain was approved. He arranged four colossal bronze groups depicting four nymphs, each of them lying on an aquatic animal symbolizing water in its various forms; a sea horse for the Nymph of the Oceans, a water snake for the Nymph of the Rivers, a swan for the Nymph of the Lakes, a lizard for the Nymph of the Underground Rivers.
The work aroused endless controversy for the provocative female nudes, so much that the fountain remained hidden for a long time inside a wooden enclosure. The debate then focused on the central sculptural group, originally consisting of three tritons, a dolphin, an octopus (now visible in the Piazza Vittorio Emanuele II gardens), and then replaced with the current triton embracing a dolphin.
You may also be interested in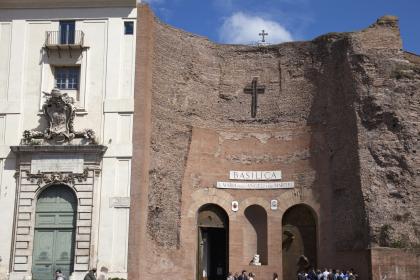 The Basilica of Santa Maria degli Angeli e dei Martiri
Condividi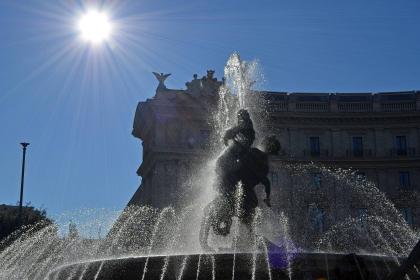 The Fountain of the Naiads
Condividi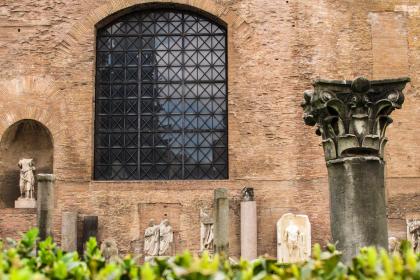 Museo Nazionale Romano – Diocletian's Baths
Condividi
Information
Address
POINT (12.4960909 41.9025361)
Condividi
Location
Piazza della Repubblica, Piazza della Repubblica
41° 54' 9.1296" N, 12° 29' 45.9276" E
To find out about all accessibility services, visit the Rome accessible section.