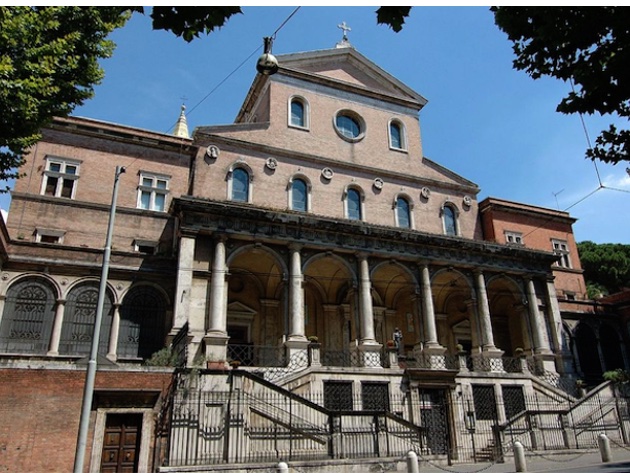 The Basilica of Sant'Antonio da Padova in via Merulana, also known as the Basilica of Sant'Antonio al Laterano is located in the historic centre, in the Esquilino district. Built between 1884 and 1887, together with Palazzo Brancaccio, it is the most demanding work of the architect Luca Carirmini and the first monumental creation of Roman sacred architecture after 1870. The building is characterized by a neo-Renaissance eclecticism that the architect combined with the fifteenth-century forms typical of Sangallo; the façade is made of bricks with architectural elements in travertine and rises on a high double flight staircase that leads to a large portico with five Doric order arches, in the center of which there is a statue depicting Saint Anthony of Padua with Child Jesus in bronze. A large triangular tympanum surmounted by a cross closes the façade, under which there are two windows separated by an oculus.
The interior of the church has a basilical plan with three naves with five chapels on each side, which is divided into two floors; the central nave, covered by a splendid wooden trussed roof, is wider than the lateral ones on which the women's gallery is located. The apse is decorated with a fresco depicting the Apotheosis of the Franciscan Order (1889-1890) by the painter Bonaventura Loffredo from Alghero. Also noteworthy is the third chapel in the left aisle dedicated to the holy martyrs of Japan, where the canvas applied on the table Franciscan holy martyrs in Japan of the end of the 19th century is kept, work of the painter Cesare Mariani.
The octagonal cell bell tower is characteristic, with a spire in polychrome and gilded majolica.
Photo credits: Basilica of Sant'Antonio al Laterano Official site
You may also be interested in
The Basilica of St. John in Lateran
Condividi
The Pontifical Sanctuary of the Holy Stairs
Condividi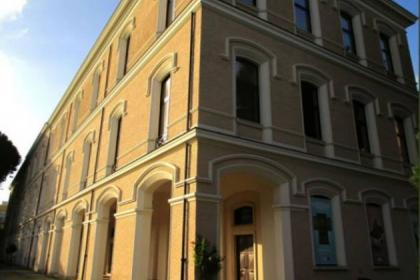 The National Museum of Musical Instruments
Condividi
Information
Address
POINT (12.5044333 41.8889257)
Timetables
For the timetable of the masses and visiting conditions, please consult the contacts.
Contacts
Email:
basilica@antonianum.eu
Telephone:
06 70373416 - 06 70373420
Web site:
www.basilica-santantonio-roma.org
Condividi
Location
Basilica di Sant'Antonio al Laterano, Via Merulana, 124
41° 53' 20.1336" N, 12° 30' 15.9588" E
To find out about all accessibility services, visit the Rome accessible section.