The beautiful fountain along the elegant and quiet Via Giulia, not far from the back façade of Palazzo Farnese, is named after the big, wide-eyed Roman mask, placed in the center of the composition. The fleur-de-lis on its crowning, which is the emblem of the Farnese family, attests that it was commissioned and financed by the powerful Roman family, presumably in the second quarter of the 17th century, soon after the inauguration of the new Acqua Paola aqueduct that allowed it to be fed.
The fountain was most likely designed by Girolamo Rainaldi, the same architect who in those years had built the twin fountains on Piazza Farnese, and it is now leaning against a wall erected in the late 19th century during the construction of the Tiber embankments. Originally, it was isolated in the center of a small square, which housed an open-air theater in 1660. Water spurts from the grotesque face's mouth into a small seashell-like basin, then down to into an ancient granite trough and ultimately into the pool set at ground level.
According to the chronicles, on special holidays, wine ran from the fountain rather than water, thanks to the generosity of the Farnese family: in 1720, in honor of Marco Antonio Zondadori who had been appointed Grand Master of the Order of Malta, a great feast was organized in the lavishly decorated street and the fountain dispensed wine for three consecutive days.
You may also be interested in
Via Giulia and the Florentine Quarter
Condividi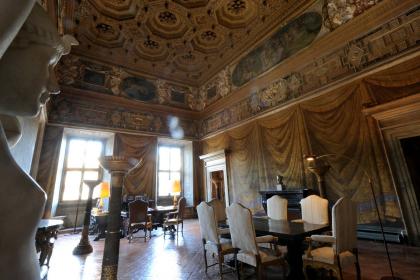 Condividi
Information
Address
POINT (12.467908 41.896453)
Contacts
Web site:
www.sovraintendenzaroma.it/i_luoghi/roma_medioevale_e_moderna/fontane/fontana_del_mascherone_in_via_giulia
Condividi
Location
Fontana del Mascherone, Via Giulia
41° 53' 47.2308" N, 12° 28' 4.4688" E
To find out about all accessibility services, visit the Rome accessible section.