The history of Palazzo Corsini begins in 1511, when the building was erected by Cardinal Raffaele Riario (1461-1521) on his property on Via della Lungara.
The original building was modified between 1659 and 1689, when it became the residence of Queen Christina of Sweden, who had moved to Rome in 1655 after converting to Catholicism. Christina, who was extremely cultured and a lover of the arts, held court in the palace that became a magnet for intellectuals. She modified the interior to house the collection of statues on the ground floor and the paintings on the first floor.
Traces of this phase of the history of the palazzo can be seen in the Queen's Alcove, where the Cinquecento frescoes are preserved. The Corsini family acquired the palazzo in 1736, after the election to the papal throne of Lorenzo (Florence 1652-Rome 1740), who reigned as Pope Clement XII. The wealthy Florentine family needed a residence in Rome suitable to their new status as the papal family; they commissioned the architect Ferdinando Fuga to restructure parts of the existing palazzo and expand it with new structures. Fuga went on to design a second wing, a mirror image of the existing building and a central body with a monumental staircase: the three structures are unified by the long and majestic façade on Via della Lungara.
At the rear of the palace is a garden that stretches as far as the Janiculum Hill. The Corsini family used the palazzo until 1883, when Prince Tommaso Jr sold the property and donated the entire collection to the Italian State, thereby contributing to the creation of the first Italian National Gallery. Today, part of the palazzo is home to the Accademia dei Lincei. The library of the Accademia houses the collection of books of his grandson Cardinal Neri Corsini, while the extraordinary collection of prints constitutes the oldest core of the current Istituto Nazionale della Grafica.
The garden today houses the Botanical Gardens of Rome. The collection, formed in the XVIII century, although composed from various sources mostly originating from the Corsini family (above all from the collection of cardinal Lorenzo), is unique in the sense that it is still intact today. It shows clearly the taste of Neri Corsini, nephew of the Pope Clement XII. In 1883 the Palace was sold to the Italian State with its collection, which thus formed the basis of the National Gallery of Ancient Art and only recently has been replaced in its original site. 
You may also be interested in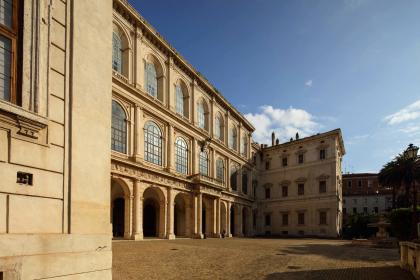 The National Gallery of Ancient Art - Palazzo Barberini
Condividi
Informazioni
Indirizzo
POINT (12.466906 41.893303)
Contacts
Email:
gan-aar@beniculturali.it - info@barberinicorsini.org
Facebook:
https://www.facebook.com/BarberiniCorsini/
Hashtag:
#BarberiniCorsini
Instagram:
https://www.instagram.com/barberinicorsini/
Online purchase:
www.gebart.it/musei/gallerie-nazionali-barberini-corsini-galleria-corsini/
Telephone:
+39 06 68802323
Telephone booking:
+39 06 32810
Twitter:
http://twitter.com/BarberiniCorsin
Web site:
https://www.barberinicorsini.org/
Servizi
Accessibile ai disabili
Audioguida
Guardaroba
Libreria
Condividi
Location
Galleria Nazionale d'Arte Antica - Palazzo Corsini, Via della Lungara, 10
41° 53' 35.8908" N, 12° 28' 0.8616" E