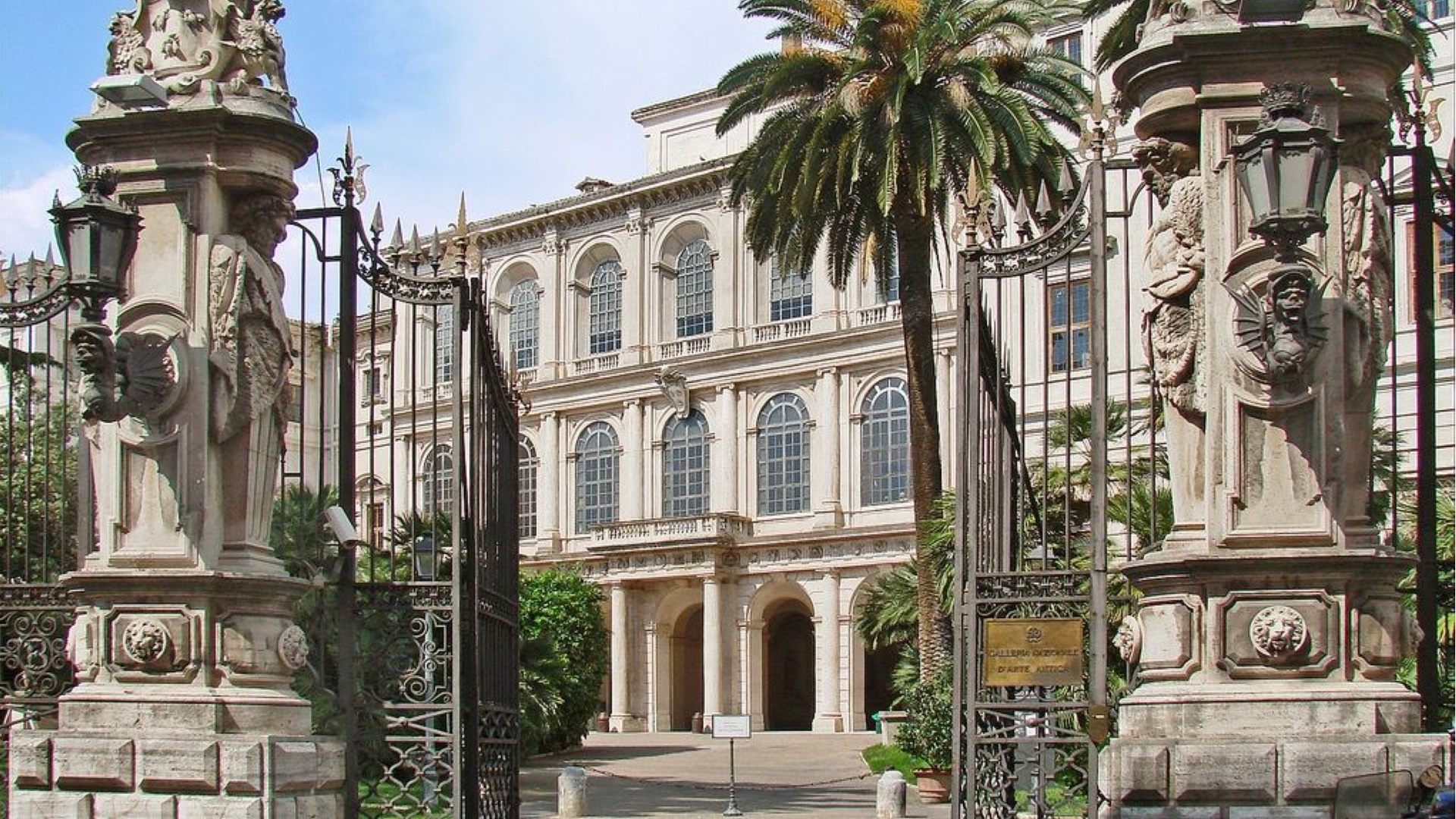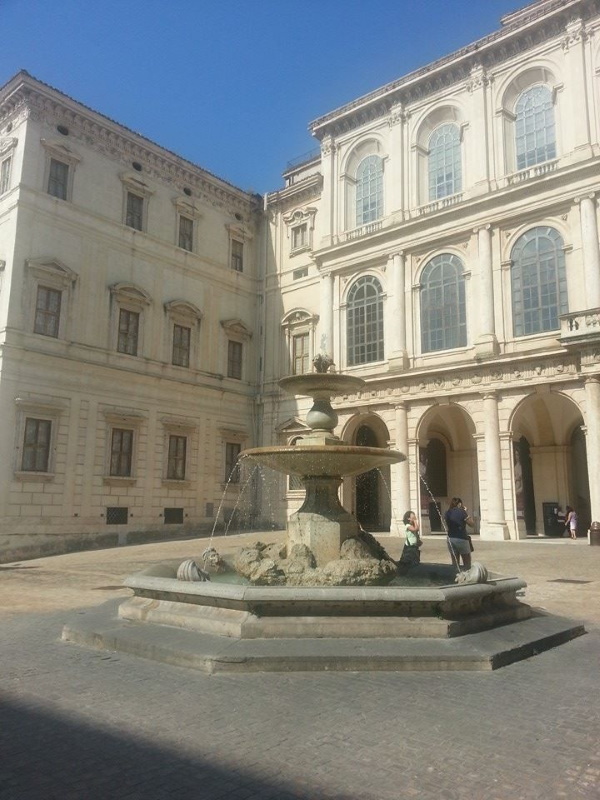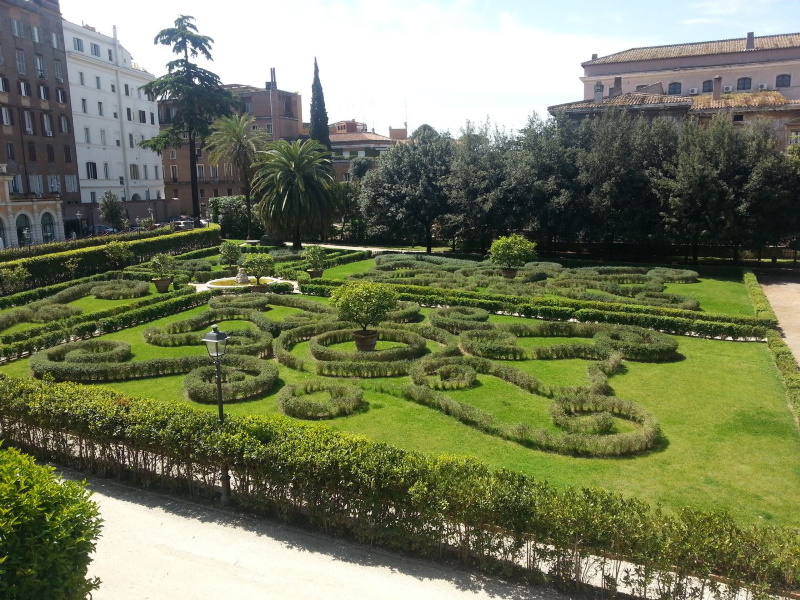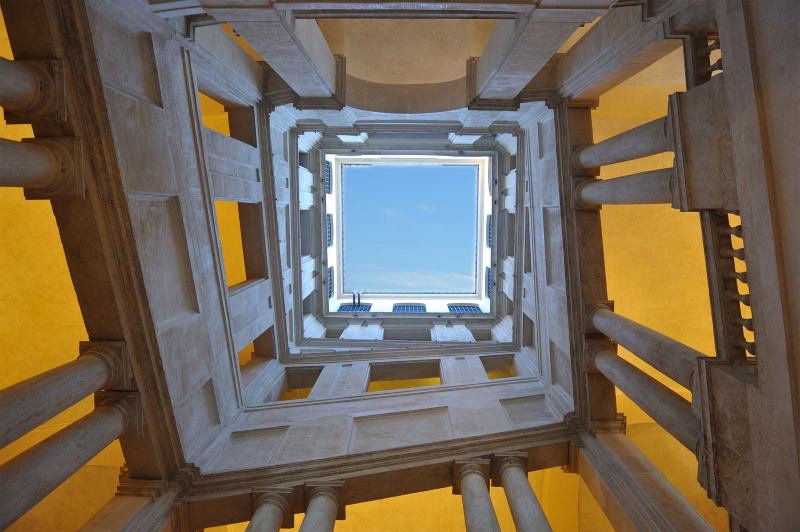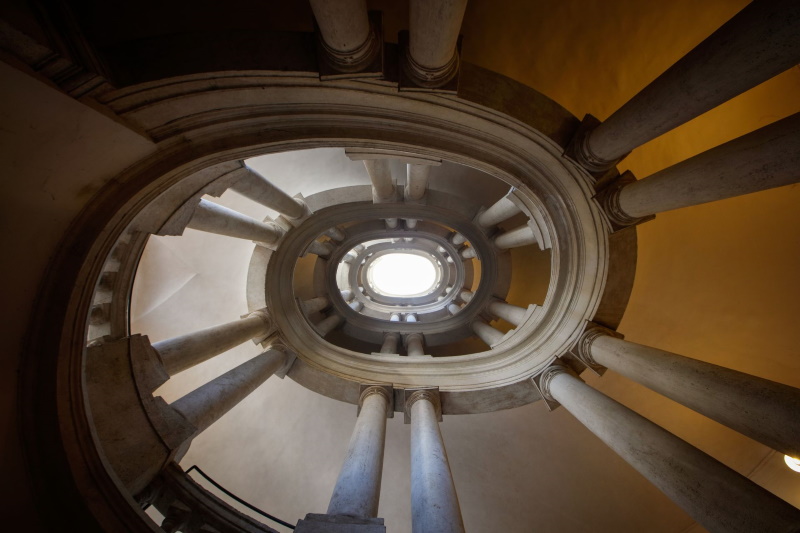 Today seat of the National Gallery of Ancient Art together with Palazzo Corsini, Palazzo Barberini is the prototypical Baroque palace, designed by three of the most important architects of the 17th century: Carlo Maderno, Gian Lorenzo Bernini and Francesco Borromini. 
In 1625, shortly after being elected pope with the name of Urban VIII, Maffeo Barberini acquired a villa on the Quirinal Hill, owned by the Sforza family, for his nephews, to transform it into his family's new residence. He commissioned Carlo Maderno, who created an open-winged structure, connecting the old villa (the Sforza wing) to a new parallel wing with a central hall. The new floor plan of the building is in the innovative shape of an "H" and the building was perfectly integrated into the surrounding environment.
The entrance is in on via delle Quattro Fontane, after crossing a large gate built in the mid-19th century. A false glass loggia rises on the portico façade, designed in all likelihood by Gian Lorenzo Bernini, who in 1629 succeeded Carlo Maderno in overseeing the construction. The changes made with respect to the original project and the attribution of many parts of the building remain a controversial issue. The young Francesco Borromini, nephew of Carlo Maderno, also contributed to its construction, designing some of architectural details, for example the windows on the main floor in the central body.
The fulcrum of the building is the majestic entrance hall: the great vault was frescoed by Pietro da Cortona with the Triumph of Divine Providence, a masterpiece of illusionism with fake entablatures that frame an open sky, animated by scenes that symbolize good governance and virtues of the pope and his family. One reaches this monumental space by a square-shafted staircase, designed by Bernini, on the one side, and by an extraordinary oval helicoidal staircase on the other, probably designed by Francesco Borromini. Pietro da Cortona also designed the theater, inaugurated in February 1632 and destroyed in 1926 with the opening of via Barberini.
Various masters worked continuously on the interior decorations, until about the mid 18th-century, when the last direct heir, Cornelia Costanza, had a Rococo-style apartment decorated on the top floor. The descendants of the Barberini family lived in the 1700-style apartment in the palazzo until 1955. In 1949, the Italian state acquired the building to use it as the seat of the National Gallery of Ancient Art. 
You may also be interested in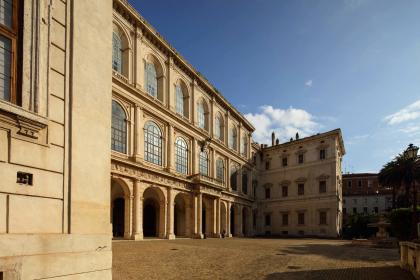 The Galleria Nazionale di Arte Antica - Palazzo Barberini
Condividi
The Galleria Nazionale di Arte Antica - Palazzo Corsini
Condividi
The Italian Institute of Numismatics
Condividi
Information
Address
POINT (12.4894979 41.9026431)
Timetables
For further information see file National Gallery of Ancient Art - Palazzo Barberini
Condividi
Location
Palazzo Barberini, Via delle Quattro Fontane, 13
Via delle Quattro Fontane, 13
41° 54' 9.5148" N, 12° 29' 22.1928" E
To find out about all accessibility services, visit the Rome accessible section.