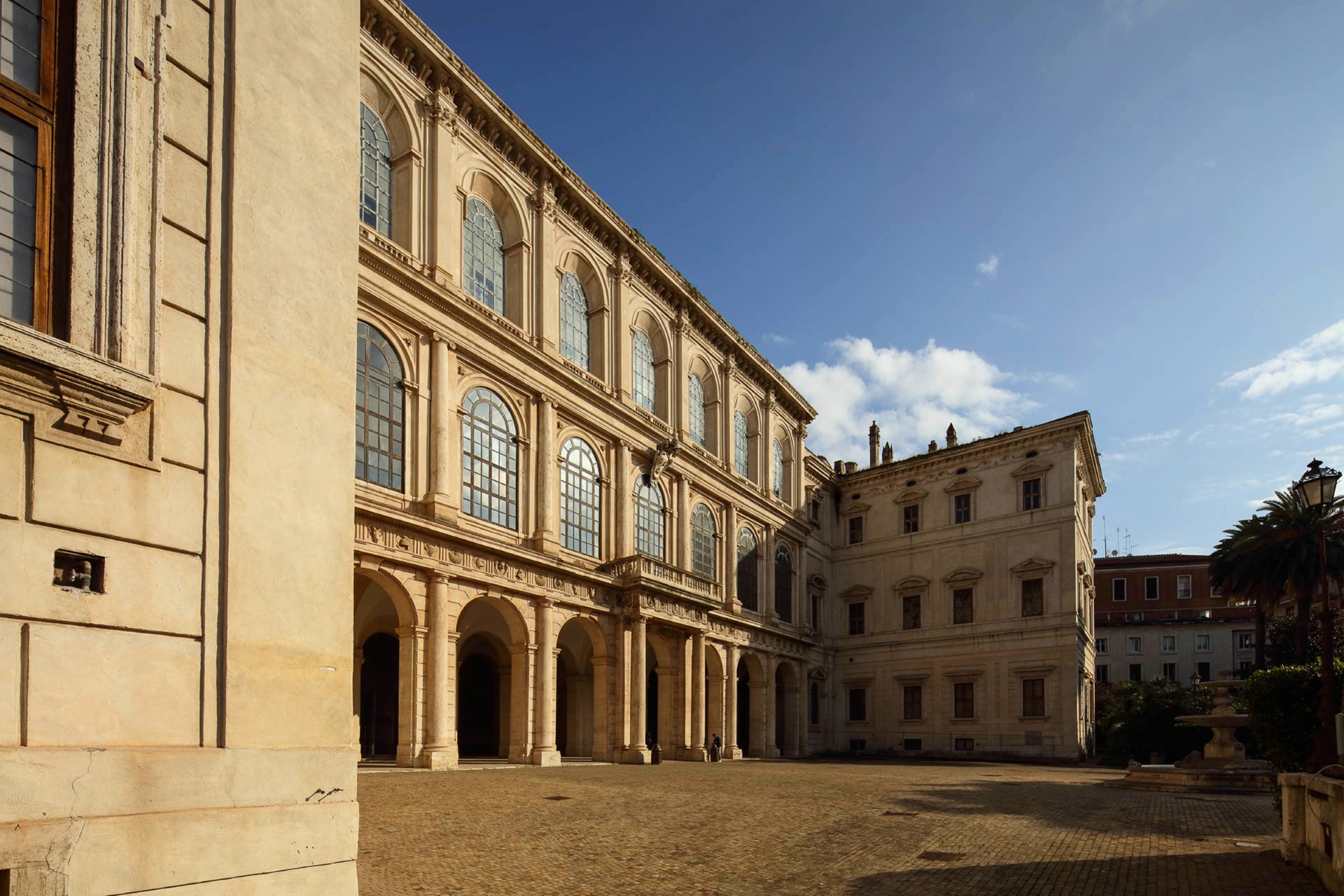 The National Gallery of Ancient Art, founded in 1895 by uniting the Corsini and Torlonia Collections, has since 1949 occupied the main and second floors of Palazzo Barberini and collects works from the great masters of Italian and foreign painting from the thirteenth to the eighteenth centuries.
On the main floor you can see the Madonna and Child by Filippo Lippi, Raphael's La Fornarina, Judith and Holofernes and Narcissus by Caravaggio, Guercino's Et in Arcadia ego, and the Portrait of Henry VIII by Hans Holbein.
In the rooms of the eighteenth century apartment you can admire The Views of Venice by Canaletto, Views of the Roman Countryside and Rome by Gaspare Vanvitelli, The Pastel Portraits by Rosalba Carriera, and Annette at Twenty by Jean-Honoré Fragonard. Paintings from the eighteenth century are also very well represented. They are divided into groups by schools and give a complete and very homogeneous quality panorama of Italian painting of the period, along with the addition of a rare group of French paintings from the eighteenth century.
You may also be interested in
Corsini Gallery - National Gallery of Ancient Art
Condividi
Informazioni
Indirizzo
POINT (12.4900477 41.9031496)
Timetables
Reopening Thursday 11 June 2020 only from Thursday to Sunday from 10.00 to 18.00
Group visits are temporarily suspended. Cloakroom service is also not available.
The cost of the entrance ticket remains unchanged (€ 12 full, € 2 reduced), doubled the period in which it can be used in both locations (20 days instead of 10).
Reservations are recommended but not mandatory.
Access is regulated in compliance with the rules of prevention of contagion provided by law.
Contacts
Email:
gan-aar@beniculturali.it - info@barberinicorsini.org
Facebook:
https://www.facebook.com/BarberiniCorsini/
Hashtag:
#BarberiniCorsini
Instagram:
https://www.instagram.com/barberinicorsini/
Online purchase:
www.gebart.it/musei/gallerie-nazionali-barberini-corsini-palazzo-barberini/
Telephone:
+39 06 4814591
Telephone booking:
+39 06 32810
Twitter:
http://twitter.com/BarberiniCorsin
Web site:
https://www.barberinicorsini.org/
Servizi
Accessibile ai disabili
Guardaroba
Libreria
Telefoni pubblici
Toilettes
Visite guidate
Condividi
Location
Galleria Nazionale d'Arte Antica - Palazzo Barberini, Via delle Quattro Fontane, 13
Via delle Quattro Fontane, 13
41° 54' 11.34" N, 12° 29' 24.1728" E