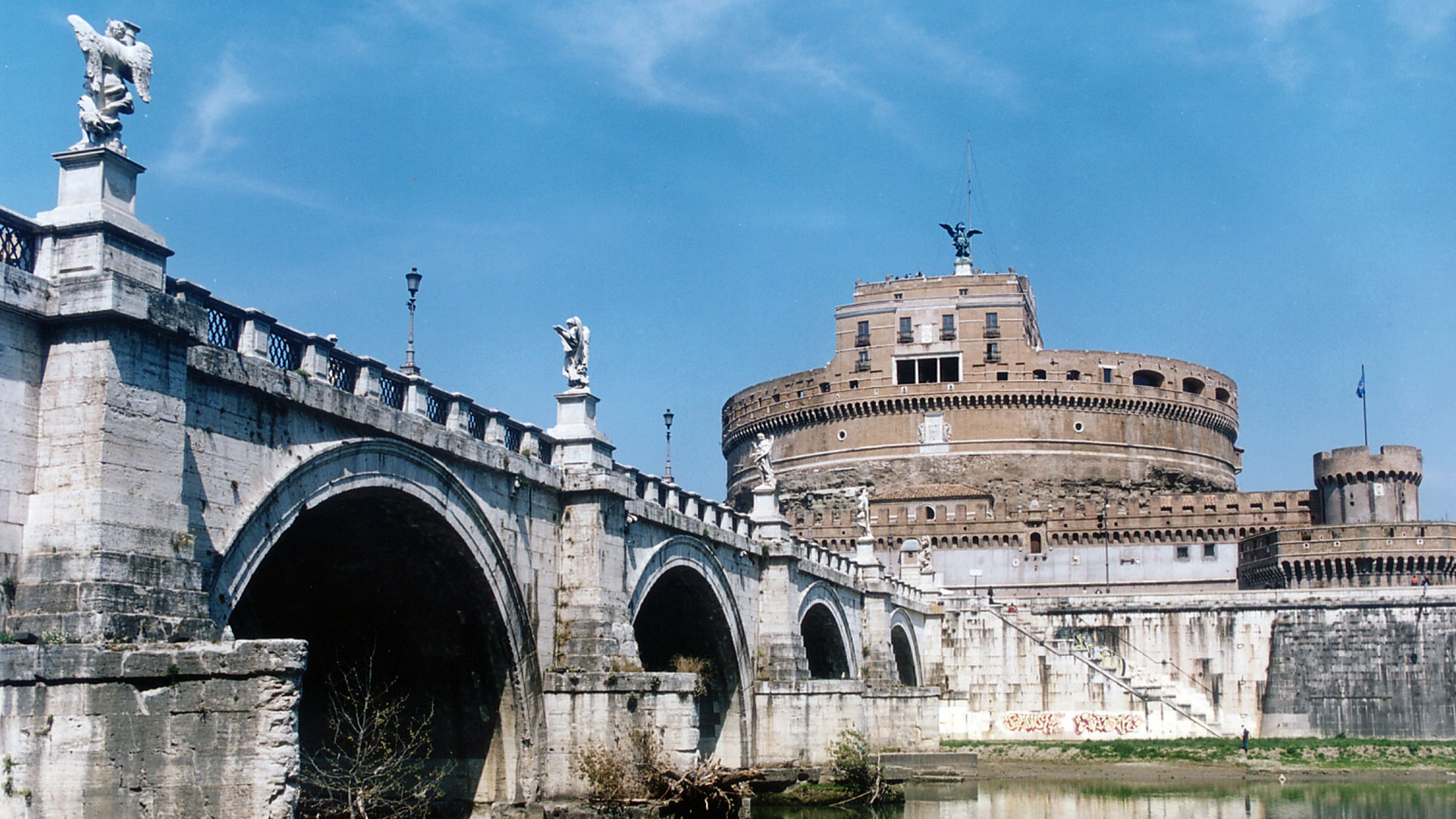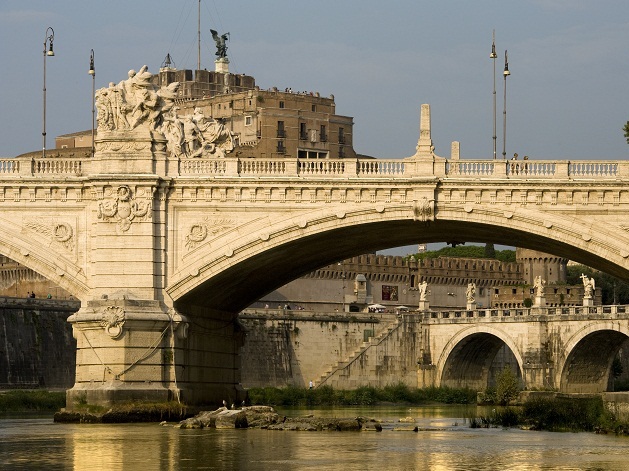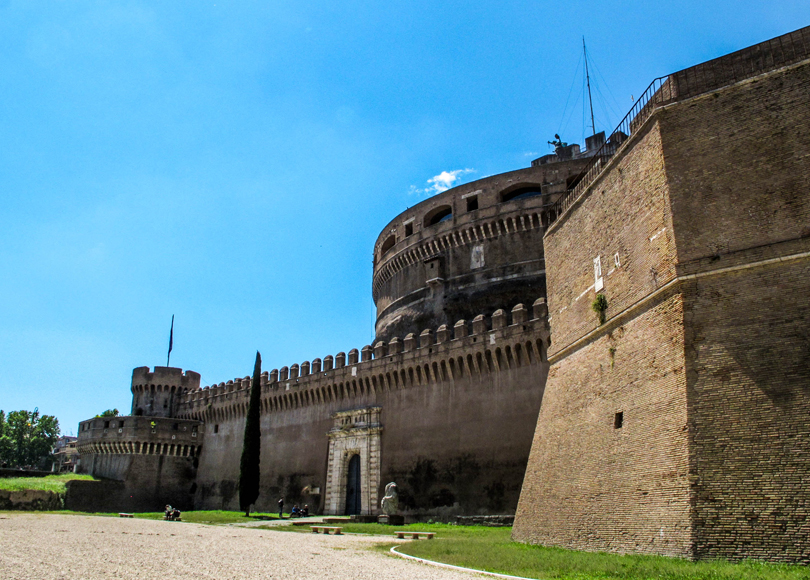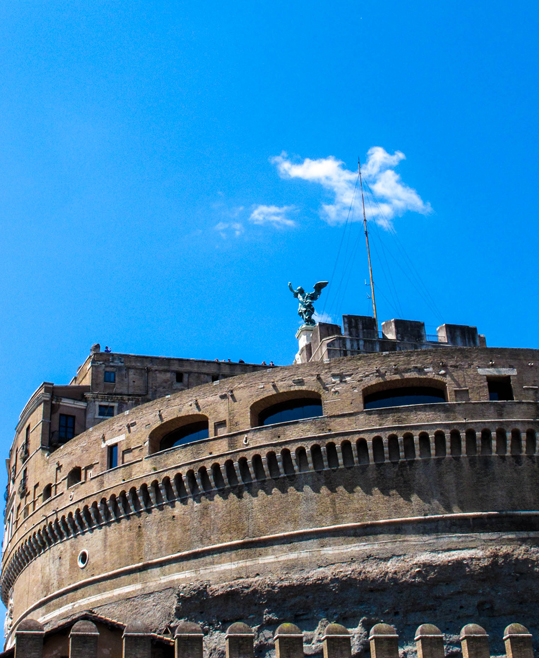 In the district of St. Peter's, at one end of the Ponte Sant'Angelo bridge, on the right bank of the Tiber, we find the imposing Castel Sant'Angelo.
 
The structure was originally a mausoleum. It had probably been commissioned and built by Hadrian as a tomb for himself and for his successors. The work was initially undertaken by the architect, Demetrianus, around the year 123. It was completed by Antoninus Pius a year after the Emperor's death.
Since 1925, the structure has hosted the Museo Nazionale di Castel S. Angelo and its historical and arts collections, including relics and other objects of interest regarding the Italian Army, in a monumental setting restored for this purpose. The complex history of this monument, with its many additions and extensions, can be broken down into three principal periods. These periods are represented by the Ancient Roman remains of the imperial mausoleum, by the fortified castle, and by the Papal apartments. These structures host the varied range of exhibits, including sculptures, paintings, works in marble, arms, and furniture and objects acquired from various sources, and in part also recovered during excavation of the spiral ramp of the mausoleum, or transferred from the museums, Museo Nazionale Romano delle Terme di Diocleziano, or the former Museo Artistico Industriale. Some exhibits were purchased from the market for antiquaries or were acquired following the shows set up on the occasion of the universal exhibition, or Esposizione Universale, of 1911.
At certain times of the year, the famous "Passetto di Borgo" or "er Corridore" (the corridor) – the fortified and elevated passage on the Mura Vaticane (Vatican walls), linking the Vatican to Castel Sant'Angelo – is open to visitors.
With this corridor, leading directly to the castle from the Palaces of the Vatican, Popes were provided with an escape route to the fortress in times of particular unrest. The fortified structure also permitted control of the surrounding district.
The strategic importance of the "Passetto" was revealed during the darkest, most mysterious and painful moments of the history of Rome and of the Church itself. Alexander VI Borgia used it in 1494, retreating to the Castello when Rome was overrun by the militias of Charles VIII of France. In 1527, Clement VII Medici (1523-1534) used the passageway to reach the Castello during the Sack of Rome at the hands of the Landsknecht mercenary pikemen under Charles VIII. The passageway's significance, when its function as a means of defence came to an end at the close of the sixteenth century, then declined.
CURIOSITY: In 1527, Pope Clement VII grew a beard, in mourning for Rome, which had been sacked. There are those who say that he grew his beard as a disguise, to facilitate his escape. All the Popes following Clement VII were bearded, up to the time of Paul V.
Informazioni
Indirizzo
POINT (12.4663838 41.9025166)
Orari
Every Day: 9.00am - 7.30pm;
Closed: December 25, January 1
Last entrance at 6.30pm
Contatti
Email:
pm-laz@beniculturali.it
Facebook:
www.facebook.com/MuseoCastelSantAngelo/
Online purchase:
www.tosc.it/tickets.htm?affiliate=T2C&sort_by=event_datum&sort_direction=asc&fun=erdetail&doc=erdetaila&erid=1965891
Telephone:
06 6819111 (centralino)
Telephone:
06 32810 info e pren. (lun-ven 9-18; sab 9-13)
Web site:
http://castelsantangelo.beniculturali.it
Web site:
www.polomusealelazio.beniculturali.it/index.php?it/265/museo-nazionale-di-castel-santangelo
Web site:
www.castelsantangelo.com/
Servizi
Bar
Biblioteca
Libreria
Visite guidate

Condividi
Location
Museo Nazionale di Castel Sant'Angelo, Lungotevere Castello, 50
41° 54' 9.0612" N, 12° 27' 58.9824" E