Built in 1929 in the then-typical Umbertine style and located in the heart of the Esquilino neighborhood, the imposing building once housed the Hygiene Office and was then was left for a long time in a state of neglect. It has been recently renovated and transformed into a new space for cultural events thanks to Elena and Claudio Cerasi who decided to make it the home of their art collection.
The exhibition space is divided into four floors, with a total area of 1,800 square meters. The collection consists mainly of works from the Roman school and Italian 20th-century art and includes, among others, masterpieces by Giacomo Balla, Mario Sironi, Giorgio De Chirico, Antonio Donghi, Mario Mafai, Antonietta Raphaël and Giuseppe Caprogrossi.
The ground floor has large windows overlooking the street. It houses a bookshop, a café and sculptures by Antonietta Raphaël, Mario Cerioli, Pericle Fazzini, Ercole Drey and many more. The main part of the collection is exhibited on the second floor. In addition to the permanent collection, temporary exhibitions and cultural activities are organized inside the building. The terrace is open to the public for cultural events and initiatives, and is available for private and corporate events.
 
You may also be interested in
The Basilica of St. John in Lateran
Condividi
Vittorio Emanuele II Square
Condividi
The heart of the multi-ethnic Esquilino district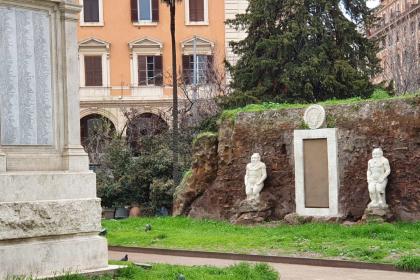 Condividi
Information
Address
POINT (12.5033064 41.8898717)
Timetables
From Wednesday to Sunday: Entrance shifts every hour from 12.00 to 20.00 (last admission at 19.00)
Closed on Mondays and Tuesdays
Shift booking: recommended
Booking fee € 2.00
For updates please visit the > official website
CafèCulture & bookshop
from 8.30 am to 20.00
Contacts
Email:
info@palazzomerulana.it
Facebook:
www.facebook.com/PalazzoMerulana
Instagram:
www.instagram.com/palazzomerulana
Web site:
www.palazzomerulana.it
Web site:
www.coopculture.it/it/poi/palazzo-merulana
Services
Caffetteria
Libreria
Visite didattiche
Condividi
Location
Palazzo Merulana, Via Merulana, 121
41° 53' 23.5392" N, 12° 30' 11.9016" E
To find out about all accessibility services, visit the Rome accessible section.