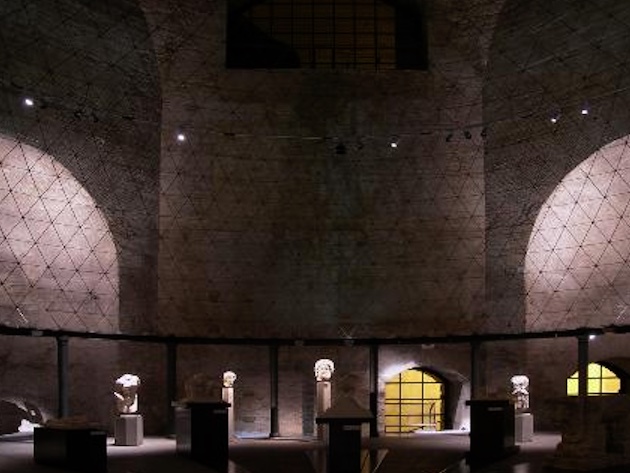 After a restoration, the Octagonal Hall of the Diocletian's Baths, more commonly known as the Planetarium, has reopened. The building, near Termini Station, is located in the western corner of the Baths and has a square plan outside and octagonal, inside.The roof, consisting of a dome with eight ribs, was originally decorated with figured marbles and stuccoes, now disappeared. Its location between the calidarium and the gymnasium and the absence of heating systems has led to the assumption that the room served as a minor frigidarium for ablutions.
The hall, remodeled over the centuries, has had different functions since 1878, when with the opening of via Cernaia, it was isolated from the complex: first used as the seat of the Gymnastics School, then a room for Minerva film projections, finally in 1928 it was the seat of the largest Planetarium in Europe. Inside the building, a series of bronze and marble sculptures from the Baths of Caracalla and Diocletian are exhibited. These are copies of statues of Greek art representing divinities, athletes or heroes, evidence of the masterpieces that adorned the great Roman baths, from the second to the fourth century A.D.
You may also be interested in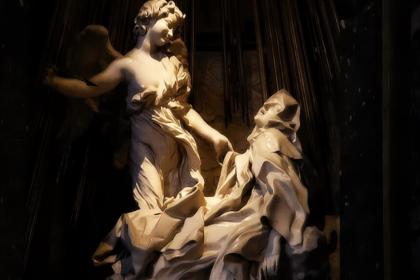 The Church of Santa Maria della Vittoria
Condividi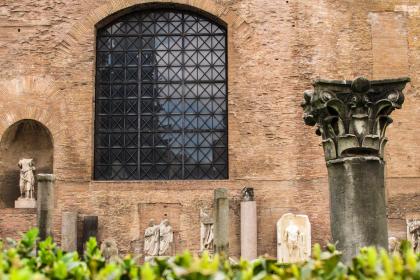 Museo Nazionale Romano – Diocletian's Baths
Condividi
National Roman Museum - Palazzo Massimo alle Terme
Condividi
Information
Address
POINT (12.495789 41.903715)
Contacts
Email:
mn-rm@beniculturali.it
Web site:
http://musei.beniculturali.it/musei?mid=379&nome=aula-ottagonale-delle-terme-di-diocleziano-ex-planetario
Web site:
www.museonazionaleromano.beniculturali.it
Condividi
Location
Aula Ottagona Terme di Diocleziano - Ex Planetario, Via Giuseppe Romita, 8
41° 54' 13.374" N, 12° 29' 44.8404" E
To find out about all accessibility services, visit the Rome accessible section.