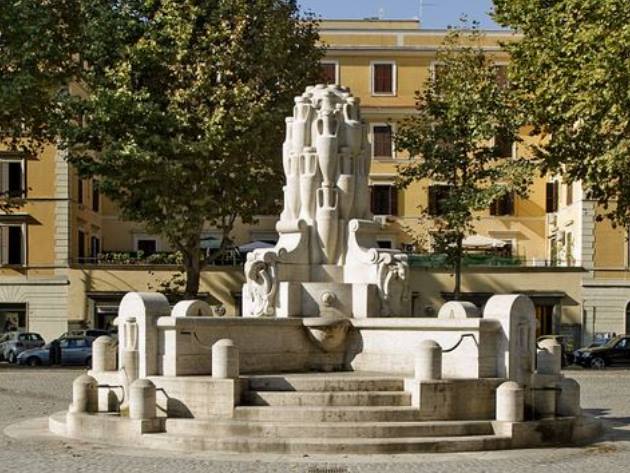 One of the symbols of Rione Testaccio, the fountain was built in 1926 on a project by the architect Pietro Lombardi, winner of the public call announced two years earlier by the Municipality of Rome.
Inaugurated on 26 October 1927, the work was located in the centre of Piazza Mastro Giorgio, the current Piazza Testaccio, the heart of the populous working-class district. In 1935, the Fontana delle Anfore (Fountain of the Amphorae) was moved when the square became the site of the local market. It was repositioned in Piazza dell'Emporio, in front of the Sublicio Bridge. Since 2012, as part of a renovation project of Piazza Testaccio, with the transfer of the local market in Via Galvani, you can admire the fountain in its original location.
The core of the fountain is the elegant and slender group of amphorae, which develops vertically like a pinnacle in the centre of four rectangular basins placed in a cross shape. The basins, adorned with the Municipality emblem, crowned by a ram's head, have four bas-relief amphorae on the external arched facades. The whole is entirely in travertine and stands on a circular basement, with four flights of five steps each.
The recurring motif of the amphora refers to nearby Monte Testaccio, popularly known as Monte dei Cocci, an artificial hill in the port area of ​​ancient Rome, near the horrea (warehouses). It was an actual "landfill" from the Roman era, where, over time, millions of testae, shards, mainly fragments of amphorae used for the transport of goods were systematically dumped and accumulated.
Lombardi was the creator of other original fountains located in some of the twenty-two Rioni of the city. They have elements and decorations that recall the coats of arms, professions, and distinctive features of each area. They are: the Fontana dei Libri (Fountain of the Books) in Rione Sant'Eustachio; the Fontana degli Artisti (Fountain of the Artists) in Campo Marzio; the Fontana delle Tiare (Fountain of the Tiaras) and Fontana della Palla di Cannone (Fountain of the Cannonball) in Borgo; the Fontana della Pigna (Fountain of the Pine Cone) in the Rione of the same name; the Fontana dei Monti in Rione Monti; the Fontana della Botte (the Cask Fountain) in Trastevere and the Fontana del Timone (Fountain of the Rudder) in Rione Ripa.
Photo: Sovrintendenza Capitolina ai Beni Culturali
You may also be interested in
Information
Address
POINT (12.4766805 41.8794247)
Contacts
Web site:
www.sovraintendenzaroma.it/i_luoghi/roma_medioevale_e_moderna/fontane/fontana_delle_anfore
Condividi
Location
Fontana delle Anfore, Piazza Testaccio
41° 52' 45.93" N, 12° 28' 36.0516" E
To find out about all accessibility services, visit the Rome accessible section.