In the ancient Jewish Ghetto, close to the Portico of Octavia, we can see a beautiful 13th-century building, with sixteenth-century additions. It was brought back to light by the work carried out in the late 1920s to free the structures of the nearby Theater of Marcellus: during the demolition of the buildings leaning against the theater, in fact, some medieval constructions were identified, and it was decided to preserve them. After its restoration, the building housed the offices of the Antiquities and Fine Arts Department of the Municipality of Rome, now the Superintendency of Cultural Heritage.
The name given to the Casina derives from the Vallati family, exponents of the new medieval mercantile nobility who owned numerous buildings in this area of ​​the Rione Sant'Angelo between the 13th and 14th centuries. As it looks like today, the complex has both Renaissance and medieval features. On the corner towards the Portico of Octavia and Via del Foro Piscario, the original 16th-century marble portal has been preserved while in the remaining part, in the direction of the Theater of Marcellus, we find some characteristic elements of the 13th century architecture, for example the loggia on the first floor and the portico on the ground floor.
The lintel of the Renaissance portal preserves the inscription "Id velis quod possis", or "Desire what you can achieve", taken from a play by Terentius. The Latin motto is flanked by a plaque commemorating the deportation of the Jews of Rome in 1943. Since 2015 the Casina dei Vallati has in fact been the exhibition site, open to the public, of the Museo della Shoah Foundation which aims to keep alive and present the memory of the extermination of 6 million Jews. The Foundation organizes exhibitions, events and conferences, promotes educational activities, seminars and training courses and organizes Holocaust-related travel tours in Italy and Europe. A virtual and interactive map reconstructs the arrests and deportations that took place in Rome on 16 October 1943: thanks to documents, photographs, audio and video content, users can navigate every pin, that is, every place where an arrest has occurred, listen to testimonies and find insights. For more information on current exhibitions, visit the museum's website.
Photo Fondazione Museo della Shoah - Onlus Facebook
You may also be interested in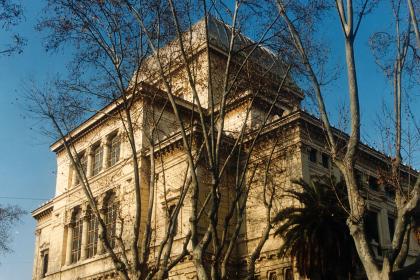 Condividi
Condividi
Information
Address
POINT (12.4785372 41.8925126)
Timetables
Orari di apertura: domenica/giovedì dalle ore 10 alle ore 17; venerdì dalle 10 alle 13. Sabato chiuso
Contacts
Facebook:
www.facebook.com/FMSonlus/
Instagram:
www.instagram.com/museoshoahroma
Twitter:
http://twitter.com/MuseodellaShoah
Web site:
www.sovraintendenzaroma.it/i_luoghi/roma_medioevale_e_moderna/beni_architettonici/casina_dei_vallati
Web site:
www.museodellashoah.it
YouTube:
www.youtube.com/channel/UC3niz4ujU0qUUbscRjl0XbA
Condividi
Location
Casina dei Vallati - Museo della Shoah, Via del Portico d'Ottavia, 29
Via del Portico d'Ottavia, 29
41° 53' 33.0468" N, 12° 28' 42.7332" E
To find out about all accessibility services, visit the Rome accessible section.