Located in the upper loggia of the 16th-century Palazzo del Commendatore, part of the historic monumental complex of Santo Spirito in Sassia, the Lancisiana Library was founded in 1711 by Giovanni Maria Lancisi, physician and pontifical archiatrist of popes Innocent IX and Clement XI.
Inaugurated in 1714 in the presence of Pope Clement XI, the library's very structure and organization reflects the scientific and medical culture of its founder, one of the most complex and interesting figures in Italian medicine of the early 18th century, and his desire to offer to young apprentices the means for a complete training, based on practice and on a good choice of books. The rich collection of medical treatises owned by Lancisi constituted the very first nucleus of the library.
The reading room and the library are decorated and furnished according to the tastes of the various eras that have made them a place of study. The reading room is embellished with "armariums" designed by architect Tommaso Mattei and two 17th century globes by Vincenzo Coronelli. The magnificent 18th-century fresco that adorns the vault is attributed to Gregorio Guglielmi. A secret window located behind one of the walls of the library allowed the various "Commendatori" who managed the hospital to check the staff in charge of assisting sick people.
The library holds a unique heritage: its approximately 19,000 volumes include incunabula, Cinquecentine (16th-century editions), manuscripts dating back to the 14th-19th centuries and printed books of the 17th, 18th and 19th centuries. The precious collection includes the illuminated codex "Liber Fraternitatis Sanctis Spiritus in Saxia de Urbe", with thousands of autographed signatures by popes, kings, nobles and ordinary people, which became members of the Confraternita Ospitaliera di Santo Spirito and lifelong benefactors of the hospital.
The new "Lancisiana Virtual Library" project also contributes to opening up the history of the library to a wider public. It is a multimedia, interactive and multilingual visit entrusted to a life-size holographic character, the first librarian of the Lancisiana Cristoforo Carsughi.
You may also be interested in
Seven different point of views to read Rome: the historical libraries
The history of Rome seen through its libraries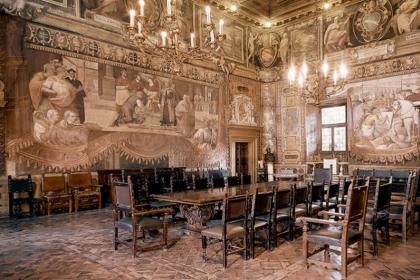 Condividi
Monumental Complex of Santo Spirito in Sassia
Condividi
Information
Address
POINT (12.461159 41.901512)
Contacts
Email:
lancisiana@asl-rme.it
Telephone:
0039 06 68352449
Web site:
https://www.aslroma1.it/polo-museale/location/biblioteca-lancisiana
Services
Archivio storico
Sala lettura
Condividi
Location
Biblioteca Lancisiana, Borgo Santo Spirito, 3
41° 54' 5.4432" N, 12° 27' 40.1724" E
To find out about all accessibility services, visit the Rome accessible section.