It occupies the area of the ancient circus of Flora, where floral games took place in May to celebrate springtime.
Placed in a depression and inhabited already in the first centuries of the empire, it filled with villas and gardens during the 16th century. With the strada Felice (today Via Sistina) it became an urban space and between the last decade of the 19th century and the first of the 20th century, it took a modern look thanks to the opening of the Via Veneto and the Via Regina Elena, now Via Barberini.
It is one of the nerve centres of the city. The square owes its name to Palazzo Barberini, here located. At its centre is the beautiful Fontana del Tritone by Gian Lorenzo Bernini (1632-37) on behalf of Pope Urban VIII Barberini.
Represented in the centre of an enormous shell, with the erect bust and scaly legs of a sea monster, the Triton stands imposing. Its head bent backwards in an effort of blowing into the large spiral shell from which the water flows. 
Expression of the new baroque concept of space, the sculptural part of the fountain includes and completely absorbs the architectural structure: the shell, on which the Triton rests, constitutes, in fact, the upper basin of the fountain, and the baluster at the base is replaced by four dolphins with intertwined tails, among which are the papal coats of arms with bees, the heraldic symbol of the Barberini Family.
Bernini was also the designer of the Fountain of the Bees, intended for wayfarers, originally located on the square, on the corner with Via Sistina, today at the beginning of Via Veneto.
You may also be interested in
Condividi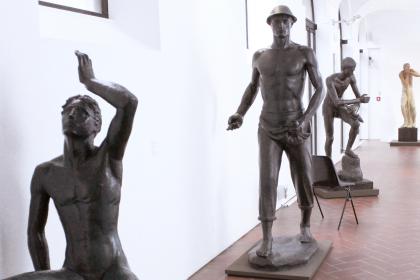 Condividi
Condividi
Information
Address
POINT (12.488492 41.903717)
Condividi
Location
Piazza Barberini, Piazza Barberini
41° 54' 13.3812" N, 12° 29' 18.5712" E
To find out about all accessibility services, visit the Rome accessible section.