It is still today imposing and majestic, although it has been reduced to a third of its original structure, and as such a perfect example of the medieval Rome's tower-houses, residences and fortresses built by noble families and ecclesiastical authorities.
Mentioned even by poet Francesco Petrarca in his letters and also known as Torre Maggiore or Torre Secura, due to its size and its impregnability, it was built on the ruins of one of the four exedras of the Templum Pacis, perhaps as early as the 9th century. In 1203, based on a design by the architect Marchionne Aretino, the tower was certainly enlarged by Pope Innocent III for his family, the Counts of Segni, and covered in travertine salvaged from the Imperial Fora, then removed in the late 16th century on the occasion of the construction of Porta Pia. In the intentions of the pontiff, the tower was to represent the ecclesiastical power and protect the papal processions papal processions that moved toward the major basilicas. 
Currently standing at 29 meters (95 foot), it was once 50-60 meters tall. The upper floors were damaged and destroyed by a series of earthquakes, especially those of 1348, 1630 and 1644. At the end of the 17th century, the tower underwent an important restoration under the reign of Pope Alexander VIII, and the two massive buttresses still existing today date back to these years.
In the following centuries the tower, dilapidated and abandoned, was used as a barn and as a coal depot. The demolitions carried out between the end of the 19th century and the Thirties for the opening of Via Cavour and the current Via dei Fori Imperiali led to its isolation and the destruction of the maze of alleys that surrounded it. Today the tower overlooks Largo Corrado Ricci (named after the general director of Antiquities and Fine Arts during the excavations of "via dell'Impero") which has taken the place of the old "Piazza delle Carrette", a toponym descending from the horse-drawn carriages that stopped here, on the edge of the Roman Forum, at the time a market area.
You may also be interested in
Archaeological area of the Imperial Fora
Condividi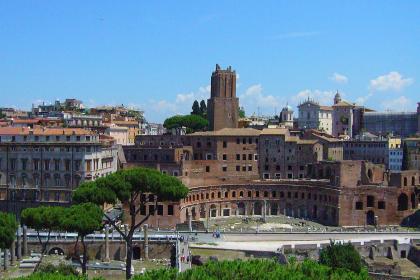 Torre delle Milizie - Tower of the Militia
Condividi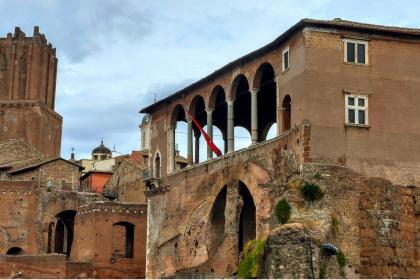 House of the Knights of Rhodes
Condividi
Information
Address
POINT (12.487501 41.893203)
Contacts
Web site:
https://sovraintendenzaroma.it/content/torre-dei-conti
Condividi
Location
Torre de' Conti, Largo Corrado Ricci
41° 53' 35.5308" N, 12° 29' 15.0036" E
To find out about all accessibility services, visit the Rome accessible section.