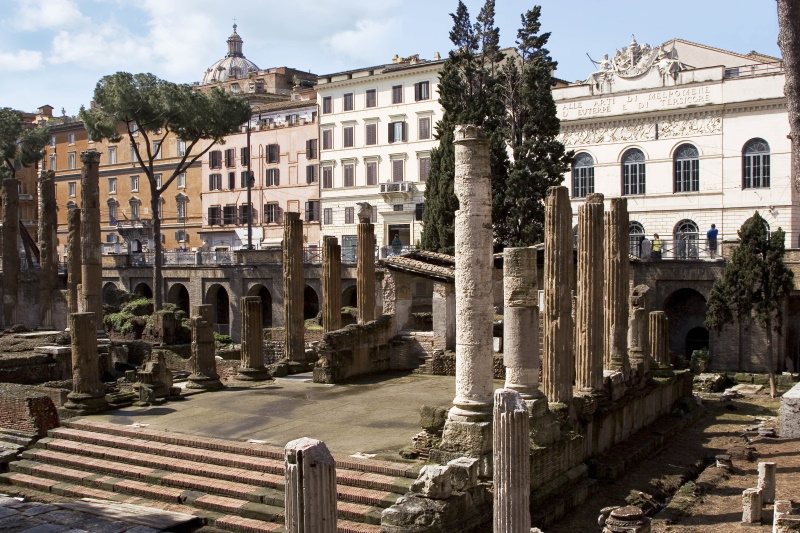 The Teatro Argentina stands in front of the Sacred Area of Largo di Torre Argentina, on the site of the Curia Pompeii, the place where Julius Caesar passed, stabbed to death.
The first inauguration dates back to 13 January 1732 with the opera Berenice by Domenico Sarro. At the time, the theatre belonged to the Sforza Cesarini family. In modern times, soon after the magnificent inauguration of the 18th century, the Argentina won a leading role in the city's theatrical offer.
While welcoming shows of all kinds - with dances and numbers on the rope, rarely comedies - the new theatre, called to face fierce competition, opened to the celebrations of the famous Carnival of Rome. It was a much-attended event in the Rome of the Papal States celebrated with great pomp and involvement of the people, as in Venice.
From the early 1800s, the theatre hosted acclaimed Rossini operas and masterpieces by Cimarosa and Donizetti, while in 1827, Paganini performed a very acclaimed concert in the hall above the vestibule. In 1849, Argentina saw the debut of La Battaglia di Legnano with music by Giuseppe Verdi. The Romans flocked en masse to their theatre where, in a patriotic inspiration, they exulted enthusiastically and vigorously for the opera of the Master of Busseto, taking the opportunity to protest against the oppression of the Papal States and the French presence.
In 1870, Rome became the Capital of Italy, undergoing an urban transformation of potent symbolic value - with the axis that connects Via Nazionale to Piazza Venezia and continues through Piazza Argentina to Corso Vittorio Emanuele II. The conjunction between the secular city and the Vatican puts the theatre emblematically at the center of this road and social network.
In this context, the city municipality acquired the historic building, which becomes of institutional representation. Since the dawn of the '900, Argentina became a theatre of the first magnitude whose fundamental vocation is to give space to dramaturgical research and the enhancement of new proposals, hosting the great interpreters of the Italian scene.
You may also be interested in
Sacred Area of Largo di Torre Argentina
Condividi
Condividi
Condividi
Information
Address
POINT (12.476362 41.895619)
Timetables
For opening times and visiting condition, please check the contacts.
Contacts
Email:
promozione@teatrodiroma.net
Facebook:
www.facebook.com/teatroargentinaroma
Instagram:
www.instagram.com/teatrodiroma
Online purchase:
https://teatrodiroma.vivaticket.it
Twitter:
http://twitter.com/teatrodiroma
Web site:
www.teatrodiroma.net
YouTube:
www.youtube.com/user/teatrodiroma
Services
Accessibile ai disabili
Bar
Guardaroba
Sala prove
Servizi igienici per disabili
Condividi
Location
Teatro di Roma - Teatro Argentina, Largo di Torre Argentina, 52
Largo di Torre Argentina, 52
41° 53' 44.2284" N, 12° 28' 34.9032" E
To find out about all accessibility services, visit the Rome accessible section.