Located at the beginning of today's Via della Lungara, the street that connects the Rione Trastevere to the Rione Borgo since the 16th century, this characteristic gate is one among those opening along the Aurelian Walls and is the only one remaining on the site where it was built.
Initially, the stretch of wall on the right bank of the Tiber included two other gates, the Porta Portuensis and the Porta Aurelia, later named Porta San Pancrazio.
Following the construction of the Janiculum Walls, around the middle of the 17th century, built to replace and extend the transtiberine section of the Aurelian Walls, the Porta San Pancrazio was rebuilt in a more advanced position, while the Porta Portuensis was demolished and replaced by the Porta Portese.
Over the centuries, Porta Settimiana underwent several remodels and restorations.
In 1451, Pope Nicholas V restored it to facilitate the transit of pilgrims arriving in Rome seeking papal indulgence.
In 1498, the gate was rebuilt with its distinctive Ghibelline battlements and swallowtail top, losing all reference to the original appearance of which no trace remains.
In 1643, Pope Urban VIII had the Janiculum Walls built by demolishing most of the Aurelian Walls to the right of the Tiber: the Porta Settimiana was incorporated into the new walls and lost its defensive function.
In 1798, and thanks to Pope Pius VI, the last renovation took place: of the gate was preserved and, if possible, even more, emphasized the militarist style that appeared rather unusual for a gateway now devoid of any defensive utility and inserted within a city neighborhood.
Behind the gate, on the side facing Via della Scala, is Via di Santa Dorotea. The legend says that a baker's daughter, Margherita Luti, lived there at number 20. She was the lover of Raphael Sanzio, who portrayed her in one of his most famous paintings, the Portrait of a Young Woman, also known as La Fornarina, which you can admire today inside the Galleria Nazionale di Arte Antica - Palazzo Barberini.
The window from which the charming young woman used to look out to greet her beloved is set in a richly decorated pointed arch.
You may also be interested in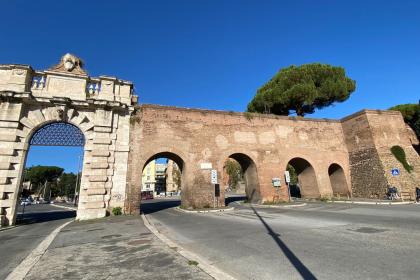 Condividi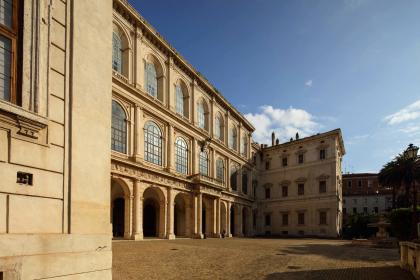 The Galleria Nazionale di Arte Antica - Palazzo Barberini
Condividi
Information
Address
POINT (12.4650625 41.8958255)
Condividi
Location
Porta Settimiana, Via della Lungara
41° 53' 44.9736" N, 12° 27' 54.2268" E
To find out about all accessibility services, visit the Rome accessible section.