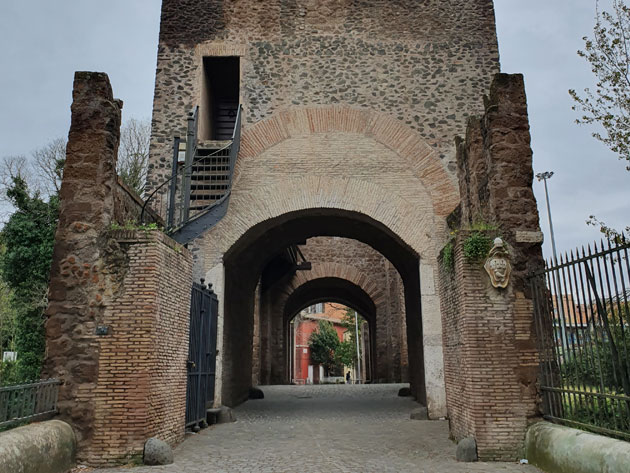 The Bridge was erected at the point where the via Nomentana crossed the Aniene river at the foot of the Monte Sacro hill, a place crossed by the passage of transhumant herds since ancient times. Today is a large travertine arch, surmounted by a medieval crenellated fortification, and two lateral ramp arches on each side.
Originally the bridge spanned the Aniene river with a double arch, of which only the one on the side of Monte Sacro remains. Destroyed and restored several times over the centuries, it is characterized by a variety of materials and construction techniques extending over a wide chronological period, from ancient to medieval and modern times.
Studies have shown that, due to the materials used, the original bridge can be dated between the end of the 2nd and the beginning of the 1st century BC.
The structure has massive reconstruction interventions: the lateral arches built in cement work with bare material (marble, brick, flint, tuff blocks) are attributable to the eighth century; the crenellated castle structure, on the other hand, belongs to the works carried out under Pope Nicholas V (1447-1455), of which the papal coat of arms remains on the access front on the valley side. The pope ordered its restoration after the damage suffered in the time of the Goths and the Byzantines. Only one of the crenellated towers intended for the guardhouses on the valley side, which protected the access doors to the bridge, is still preserved today.
The tradition wants that on this bridge Pope Leo III met Charlemagne, who came to Rome to be crowned emperor of the Holy Roman Empire, in 800 AD. Furthermore, the rebellion of the plebs (345 BC) took place close to the Nomentano Bridge near Monte Sacro hill, quelled by the famous apologue of Menenio Agrippa and by the concession of the Tribunate.
A consolidation and conservative restoration of the entire structure was recently carried out by the Municipal Administration.
You may also be interested in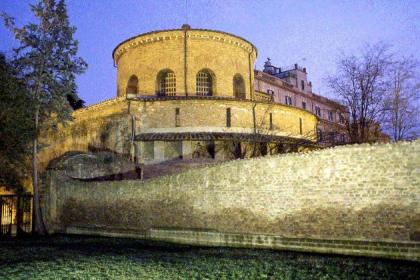 The Basilica of Sant'Agnese outside the Walls and the Mausoleum of Santa Costanza
Condividi
Condividi
Condividi
Information
Address
POINT (12.5341617 41.9340559)
Contacts
Web site:
www.sovraintendenzaroma.it/i_luoghi/roma_antica/monumenti/ponte_nomentano
Condividi
Location
Ponte Nomentano, Via Nomentana, 434
41° 56' 2.6016" N, 12° 32' 2.9832" E
To find out about all accessibility services, visit the Rome accessible section.