The little museum is housed in a room adjacent to the sacristy of the neo-Gothic church of the Sacro Cuore del Suffragio, sometimes referred to as the "little Milan Cathedral".
The unique collection originated by the will of the French missionary Victor Jouet, following the events of 15 November 1897, when a mysterious fire broke out in the chapel of the Rosary. The painting on the altar was spared from the fire, the priest and many believers saw a suffering face into the flames. The fire left behind the image of the human face, enigmatically imprinted on the wall, and having a more peaceful expression with the intercession. It is now visible in a photographic reproduction inside the museum.
Father Jouet decided to travel around Europe, in search of proof of the afterlife and communication between the dead and the living, collecting extraordinary handprints, original or photographed documents, signs and manifestations of all kinds. Later, the collection was rearranged. Now it consists of various documents and mysterious traces relics of the afterlife, as the ecclesiastical authorities considered insufficient the indication of authenticity for much other material found. 
Cloths, fabrics, cassocks, skullcaps, breviaries, nightgowns and wooden tablets jealously guarded in showcases, therefore, narrate the apparitions of the deceased in the presence of family members and religious, witnessed by their "handprints of fire". These testimonies, detailed and each with a particular story, are dated back mainly to the 18th and 19th centuries and happened to request prayers and masses of intercession. An 1879 case is about the worry of a Belgian woman for the dissolute life led by her son; the man reconverted to the faith by the continuous maternal proof of an afterlife to such an extent of founding a new religious order.
Photo credits: Chiesa del Sacro Cuore di Gesù, detta del Suffragio Official Website
You may also be interested in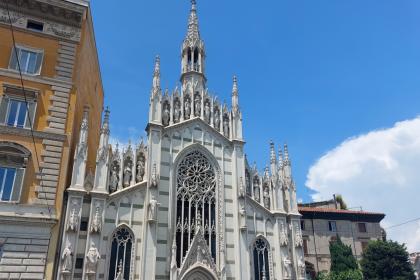 The Church of the Sacred Heart of Jesus in Prati
Condividi
Information
Address
POINT (12.4725952 41.9041517)
Timetables
For the opening times and guidelines please call the museum.
Condividi
Location
Museo delle Anime del Purgatorio, Lungotevere Prati, 12
41° 54' 14.9472" N, 12° 28' 21.342" E
To find out about all accessibility services, visit the Rome accessible section.