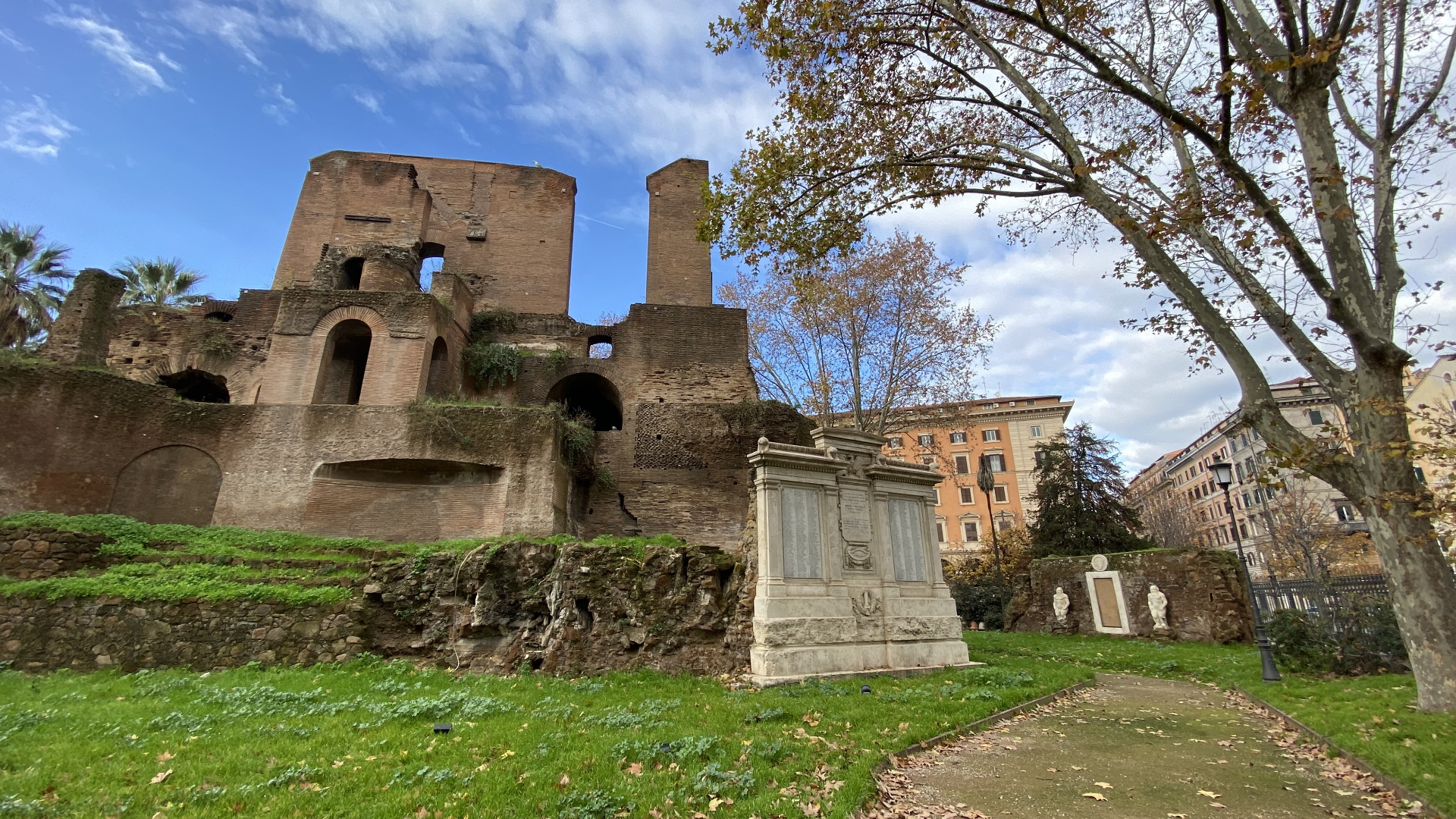 The historic and eclectic gardens, inaugurated in 1888, are the heart of Piazza Vittorio Emanuele II, in the centre of the multi-ethnic Esquilino district. Defined at the time as a magnificent and romantic square characterized by a decorative gate, it has architectural traces from the Roman, 19th-century and modern period. The exotic feature of the gardens is underlined by the numerous tree varieties from all over the world, including palms, magnolias, plane trees, as well as a beautifull rose garden.
Water is the common thread and constant presence of the gardens, in which there are, in fact, several fountains. Besides the new Fontana degli Zampilli, in the north corner is the monumental "Trofei di Mario" from the Roman period, so named for the two marble decorations that adorned it until 1590. Today on the balustrade of the Capitol, it is dated to 226 AD and was built by Alessandro Severo with the function of water distribution castle.
A sculptural group with a dolphin, three tritons and a large octopus decorates the Fontana del Glauco, the work by Mario Rutelli from 1910, initially intended for the Fountain of the Naiads in Piazza Esedra and ironically renamed the "fritto misto" (fried fish).
A singular and fascinating element is the so-called Porta Magica (Magic Door), set in a wall and guarded by two statues of the Egyptian god Bes. It is all that remains of Villa Palombara, built starting in 1620 by the Marquis Oddo Savelli di Palombara. This "Alchemical Gate" contains esoteric and kabbalistic symbols - triangles, symbols of planets, Hebrew and Latin inscriptions  - all the formulas that seem to relate to the secret of the philosopher's stone.
The Villa was demolished in the second half of the 19th century when the new district was built, and the Magic Door is the only remained of the original five doors of the residence.
The gardens, recently undergone renovation, since 6 March 2006 are named after Nicola Calipari, an Italian secret agent killed by US soldiers in Iraq on 4 March 2005, in the phases immediately following the liberation of the journalist of Il Manifesto Giuliana Sgrena.
Information
Address
POINT (12.50476 41.895161)
Contacts
Web site:
www.comune.roma.it/web/it/scheda-servizi.page?contentId=INF707390&stem=verde_urbano
Services
Area gioco attrezzata per bambini
Giostre
Condividi
Location
Giardini Nicola Calipari di Piazza Vittorio, Piazza Vittorio Emanuele II
Piazza Vittorio Emanuele II
41° 53' 42.5796" N, 12° 30' 17.136" E
To find out about all accessibility services, visit the Rome accessible section.