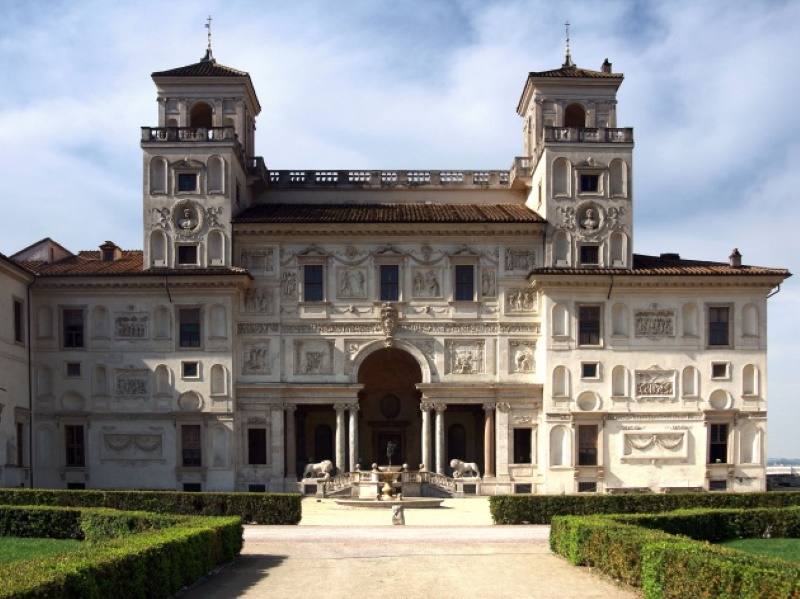 Located on the panoramic Pincio hill, the current building dates back to the mid-16th century. It was built to a design by the architect Giovanni Lippi, known as Nanni di Baccio Bigio, commissioned by Cardinal Giovanni Ricci da Montepulciano. In 1576, Cardinal Ferdinando de Medici bought the splendid villa to keep his collection of artworks. Since the beginning of the 19th century, the building has been the seat of the French Academy. Since the beginning of the 19th century, the building has been the seat of the French Academy. The Institution was established in 1666 on the initiative of the statesman Jean-Baptiste Colbert and Gian Lorenzo Bernini to welcome the winners of the Prix de Rome and scholarship recipients, the protégés of the French nobles.
Opposite to the simple style of the external façade is the splendour of the internal one, adorned with garlands, masks, statues, and ancient bas-reliefs. A beautiful loggia opens onto the magnificent gardens, embellished with sculptures and fountains, including one with an obelisk. The large rectangular garden is divided into sixteen square flowerbeds, surrounded by hedges and characterized by majestic pines. The green area covers more than 7 hectares and today mainly keeps the 16th-century appearance.
In 1564, when Cardinal Ricci bought the Casina Crescenzi located on the "collis hortulorum", the farm most likely consisted of a simple farm amid land planted with vineyards. Large terracing works were undertaken and a garden enclosed by adjacent walls was created. Thanks to the irrigation works made by Camillo Agrippa, a Milanese mathematician and engineer, the place was then adorned with numerous basins and fountains. Ferdinando de 'Medici completed the works and, purchasing the vineyard of Giulio Bosco south of the "silva" in 1580, later enclosed the Villa between the Aurelian Walls and Via Pinciana. Thus, the cardinal realized a new North-South axis (the long avenue), which connected the garden to the Parnassus, a small artificial hill with the ruins of an ancient temple.
The interiors house valuable works of art, collected over the centuries: precious furniture, tapestries, objects of art and design, musical instruments, drawings, prints, sculptures, and a rich collection of casts and paintings, including the portraits of 460 scholarship recipients from 1798 to 1936. The villa has one of the largest decorative arts libraries in Rome, created in 1803 on the initiative of Joseph-Benoît Suvée, director of the Academy from 1795 to 1807. The collection consists of approximately 37,000 volumes in the French language, dedicated to the plastic arts, architecture and art history, which is the most relevant nucleus, music texts, photography, cinema and literature.
You may also be interested in
Informations
Address
POINT (12.482476 41.907928)
Contacts
Email:
standard@villamedici.it
Facebook:
www.facebook.com/VillaMedici.VillaMedicis/
Instagram:
www.instagram.com/villa_medici/
Twitter:
http://twitter.com/VillaMedicis
Web site:
www.villamedici.it
Services
Biblioteca
Conferenze
Incontri con autore
Mostre
Sala convegni
Visite guidate
Condividi
Location
Villa Medici - Accademia di Francia, Viale della Trinità dei Monti, 1
Viale della Trinità dei Monti, 1
41° 54' 28.5408" N, 12° 28' 56.9136" E