On entering the piazza, you are immediately taken aback by such elegance: the yellow, brownish ochre-coloured buildings, Bernini's fountain and the celebrated Spanish Steps rising up towards the Church of SS. Trinità dei Monti, all helping to create a refined, 18th century atmosphere. It is therefore no coincidence that high-fashion brands, such as Gucci, Bulgari and Valentino, all have show-piece shops just off the piazza. Home to English poets John Keats and Percy Bysshe Shelley, the world-famous piazza, located at the foot of the Pincio Hill, has always been considered both a priceless cultural gem as well as a popular tourist attraction.
During the 15th century it assumed a very important commercial role for the presence of the many hotels and residences inhabited by foreigners, recalled in this area by representatives of the Spanish and French governments.
The Spanish Steps (1723-26) were built, under the pontificate of Innocent XIII and the direction of the Roman architect Francesco De Santis, to be the meeting place for all citizens.
On the top of the Steps is the church of SS. Trinità dei Monti, founded in 1495.
In the middle of the square stands the so called Barcaccia (1626-29), the fountain by Pietro Bernini, father of Gian Lorenzo. The fountain has the shape of a boat with an identical bow and stern and is immersed in an oval pool. The edges of the sides are very low, giving the impression that the boat is about to sink.
On the outside of the bow and stern are two large coats of arms belonging to Urban VIII Barberini with the three bees, emblem of his family; on the sides of the coats of arms, the water comes out from fake cannon mouths. The term "barcaccia" refers to the boats used on the Tiber in the nearby port of Ripetta. Other inspiring reasons for the fountain are to be found probably in the news according to which there existed in the area a naumachia (an open-air building where naval games and battles with miniature warships were played), and in the Tiber floods, which dragged the boats to the feet of the Trinità dei Monti.
You may also be interested in
Condividi
Condividi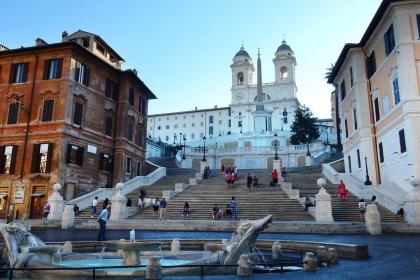 The Church of the Santissima Trinità dei Monti
Condividi
Information
Address
POINT (12.482442 41.905894)
Condividi
Location
Piazza di Spagna, Piazza di Spagna
41° 54' 21.2184" N, 12° 28' 56.7912" E
To find out about all accessibility services, visit the Rome accessible section.