Overlooking Piazza Farnese, the church is named after St Bridget, or Birgitta Persson, a Swedish noblewoman born in a small town near Stockholm and arrived in Rome in 1349, after having founded the monastic Order of the Holy Saviour. After she was canonized in 1391, next to the hospice she built for her expatriate countrymen and pilgrims, a little church was dedicated to St Bridget. The church is an integral part of a building complex that also includes the house where St Bridget and her daughter St Catherine of Sweden lived until their death and their rooms have been preserved in the present building.
The first restoration of the complex took place in the 17th century, but the church's current appearance is due to the radical renovation carried out at the beginning of the following century. Begun in 1705, the late-Baroque façade has a portal surrounded by two Corinthian columns while the statues of Bridget and her daughter Catherine can be recognized above the tympanum. The slender red brick bell tower was added at the end of the 19th century.
The interior has a single nave with two side altars. The barrel-vaulted ceiling, frescoed in 1709 by Biagio Puccini, is dominated by the "Glory of St Bridget". The six canvases that decorate the side walls with episodes from the life of the saint are by the same author. The wooden choir loft on the counter-façade is also from the 18th century but a lot of the interior's rich decoration is 19th century. On the right altar there is a copy of the lost work "Madonna and Child" by Annibale Carracci, from the late 17th century. Not far is the cenotaph made by Tommaso Righi in 1768 on design by Pietro Camporese the Elder for Nils Karlsson Bielke, a descendant of one of St Bridget's brothers who lived in exile in Rome, after converting to Catholicism.
After numerous changes of hands throughout its history, in 1931 the complex returned to the Bridgettine order. Today Santa Brigida is the national church of the Swedes.
You may also be interested in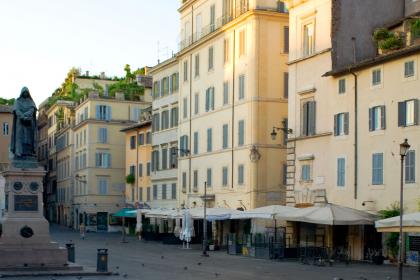 Condividi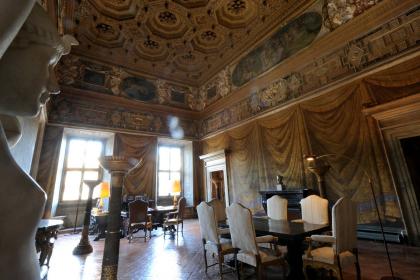 Condividi
Via Giulia and the Florentine Quarter
Information
Timetables
For the timetable of the masses and visiting conditions, please use the contacts above.
Contacts
Email:
curia@brigidine.org - casabrigidaroma@brigidine.org (Prenotazioni)
Telephone:
06 68892596 - 06 68892497
Web site:
www.brigidine.org
Condividi
Location
Chiesa di Santa Brigida, Piazza Farnese, 96
41° 53' 42.72" N, 12° 28' 14.844" E
To find out about all accessibility services, visit the Rome accessible section.