The Catacombs of Domitilla are located along the ancient via Ardeatina and are among the largest in Rome; their origin dates back to some burial grounds built on a property belonging to Flavia Domitilla, related to the imperial family of Vespasiano. The underground cemetery developed between the 2nd and 3rd centuries AD. and includes, in addition to the galleries and corridors on four different levels, a semi-underground basilica built at the end of the fourth century during the pontificate of Pope Damasus and dedicated to Saints Nereus and Achilleus, martyrised under Diocletian and buried under the apse. The basilica consists of three naves, preceded by a narthex, separated by two rows of four columns. Of the main altar, the only surviving column is decorated with the beheading of Achilleus, a very rare subject in Christian art. Behind the apse there is a tunnel with a fresco depicting Santa Petronilla in an attitude of praying, introducing the deceased Veneranda into the sky.
Under the basilica, there are the catacombs with different kinds of tombs: niches, arcosoli and cubicles, many of which are frescoed. Composed of a large gallery, on which there are four large niches hosting the sarcophagi of the most important members of the family, the Flavian Hypogeum is, in fact, the oldest nucleus of the entire burial ground and dates back to the end of the second century AD. Among the other burials, of particular importance: the Cubicle of Ampliato, with pagan paintings and a cubicle with a third-century fresco depicting Christ the Good Shepherd. The section of the catacombs called "of the Madonna", has several frescoes from the third and fourth centuries, among which the stands out the one of the Epiphany, depicting the four Magi approaching the Virgin and Child.
Photo credits: Courtesy of Catacombs of Domitilla official site
You may also be interested in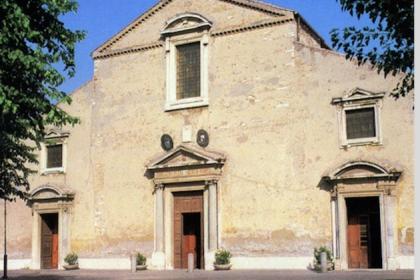 Basilica and Catacombs of San Pancrazio
Condividi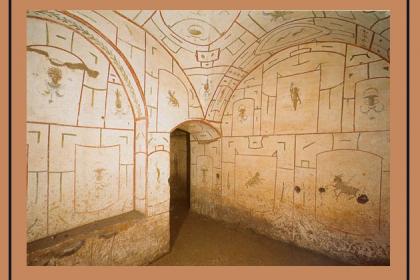 The Catacombs of San Sebastiano
Condividi
The Catacombs of Saint Callistus
Condividi
Information
Address
POINT (12.5055262 41.8589021)
Timetables
From Monday to Sunday
From 9.00 to 12.00 and from 14.00 to 17.00
Tuesday closed
Contacts
Email:
info@domitilla.info
Facebook:
www.facebook.com/catacombedomitilla
Web site:
www.catacombedomitilla.it
Condividi
Location
Catacombe di Domitilla, Via delle Sette Chiese, 282
Via delle Sette Chiese, 282
41° 51' 32.0472" N, 12° 30' 19.8936" E
To find out about all accessibility services, visit the Rome accessible section.