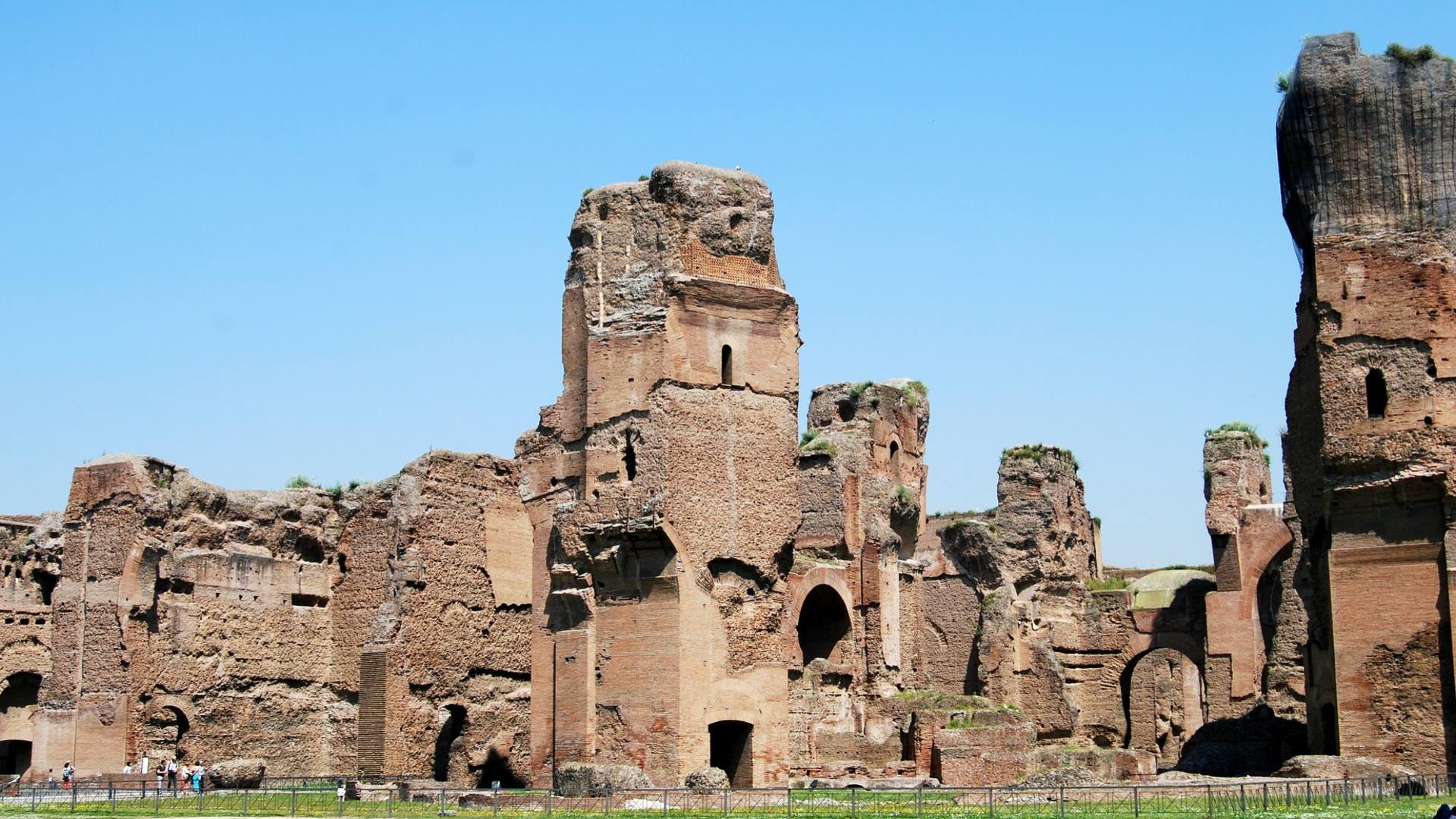 The Thermae Antonianae, one of the largest and best preserved thermal complexes of antiquity, was built at the behest of the Emperor Caracalla on the Piccolo Aventino between 212 and 216 AD, in an area near the first stretch of the Appian Way.
For the water supply of the baths, a special branch of the Aqua Marcia was built, called Aqua Antoniniana, which crossed the via Appia, resting on the pre-existing arch of Drusus. For the construction of the complex it was necessary to demolish pre-existing buildings and excavate a large sector of the hill.
Restored several times by Aureliano, Diocleziano, Theodosius, the baths ceased to function in 537 AD.
The rectangular plan of the building is typical of the great imperial baths; you entered the central body of the building by four doors on the north-eastern facade: on the central axis you can observe in sequence the calidarium, the tepidarium, the frigidarium and the natatio; on the sides of this axis are arranged, symmetrically around the two gyms, other environments.
In fact, at the time, the baths were not only a building for bathing, sports and body care, but also a place for strolling and studying.
The original decoration was very sumptuous: written sources tell about huge marble columns, floors in colored oriental marbles, mosaics of glass paste and marble on the walls, painted stuccos and hundreds of statues and colossal groups, both in the niches of the walls of the rooms and in the gardens.
Interesting are the basement of the baths, a real network of environments where all the service activities for the functioning took place. In one of these you can admire the largest mithraeum in Rome, which can only be visited on the occasion of special events or visits.
Photo credits: Sovrintendenza Capitolina
Information
Address
POINT (12.495191 41.879187)
Timetables
From Tuesday to Sunday from 9.00 to 19.15
Last entrance at 18.30
Closed on Mondays
For updates and procedures, please consult the official website.
Contacts
Web site:
www.soprintendenzaspecialeroma.it/schede/terme-di-caracalla_3009/
Web site:
www.coopculture.it/it/poi/terme-di-caracalla/
Services
Accessibile ai disabili
Audioguida
Servizi igienici per disabili
Visite guidate
Visite guidate in lingua
Condividi
Location
Terme di Caracalla, Viale delle Terme di Caracalla, 52
Viale delle Terme di Caracalla, 52
41° 52' 45.0732" N, 12° 29' 42.6876" E
To find out about all accessibility services, visit the Rome accessible section.