The Antiquarium of Lucrezia Romana is located between the Grande Raccordo Anulare and the Tuscolana and Capannelle streets.
With its 500 square meters, the museum is composed of five rooms divided in two buildings where the finds which emerged from the archaeological investigations carried out in the Appio Tuscolano territory are exhibited. In Roman times, this area, crossed by the via Latina, was characterized by agricultural activities and the presence of villas and necropolis.
The materials refer to the time span ranging from prehistoric times to the Middle Ages. Among the exhibits there are, above all, rich funerary objects: vases, oil lamps, objects of daily life for women such as: containers for make-up, tweezers, spatulas and jewels. Particularly interesting is a baby bottle from the prehistoric era.
There is no shortage of mosaics, coins, frescoes, glass and fragments of decorations of the villas and tombs of the imperial age, including four works in terracotta: a Hellenistic-style head and three faces of divinities. There is also a marble Dionysian herm, an alabaster basin, a statue of Hermaphrodite and a Nereid on a sea monster.
Photo: MIBACT
You may also be interested in
The Regional Park of the Appian Way
Condividi
Condividi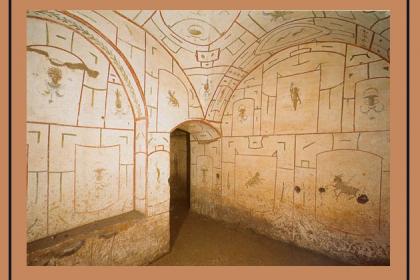 The Catacombs of San Sebastiano
Condividi
Information
Address
POINT (12.5787222 41.8317259)
Timetables
Open on Tuesdays, Thursdays and Sundays with last entry 30 minutes before closing time.
Closed on 25th December and 1st January.
From 1st October to 31st October from 9 to 18.30
From 1st November to 28th/29th February from 9 to 16.30
From 1st March to 31st March from 9 to 18.30
From 1 April to 30 September from 9 to 19.15
For theupdates and guidelines please check the official website.
Contacts
Email:
pa-appia.antiquariumlucreziaromana@beniculturali.it
Facebook:
www.facebook.com/archeoappia
Web site:
www.parcoarcheologicoappiaantica.it/luoghi/antiquarium-di-lucrezia-romana/
Web site:
www.coopculture.it/it/poi/antiquarium-di-lucrezia-romana/
Condividi
Location
Antiquarium di Lucrezia Romana, Via Lucrezia Romana, 62
41° 49' 54.2136" N, 12° 34' 43.3992" E
To find out about all accessibility services, visit the Rome accessible section.