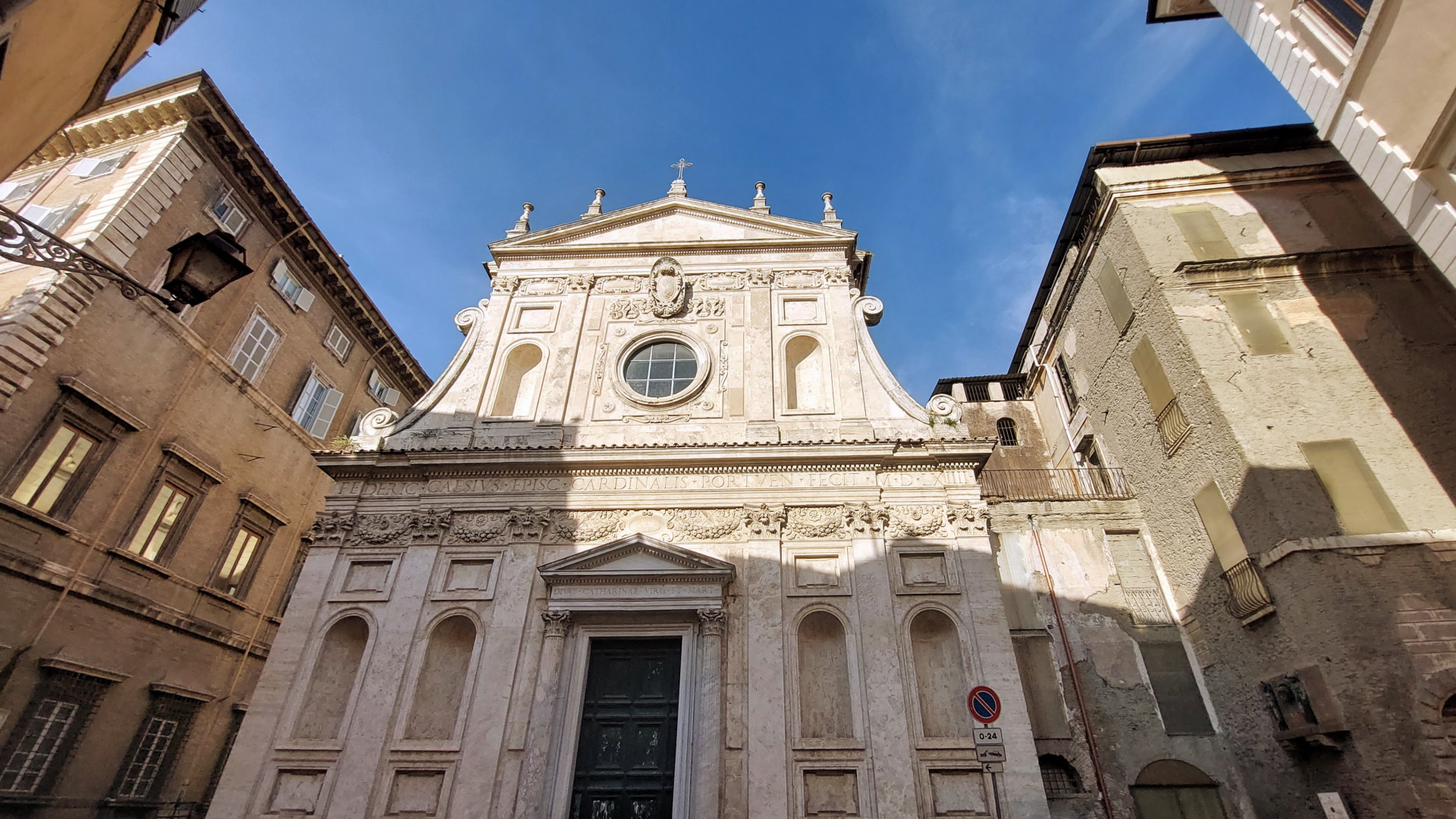 We are in the Rione Sant'Angelo, one of the areas that were the heart of medieval Rome, and the church still evokes in its name the ropemakers (funari) who plied their trade in this part of the city, using the basement rooms of the palaces. However, at the end of the 12th century, when it is first attested in a papal bull of Celestine III, the church was still known as Santa Maria Dominae Rosae or Sancta Maria in castro aureo, since it was believed to stand on part of the Circus Flaminius (at the time called Castrum Aureum).
In 1534, Pope Paul III granted the complex to St. Ignatius of Loyola, who founded there the Conservatorio di Santa Caterina della Rosa, also known as the "Compagnia delle Vergini Miserabili Pericolanti", with the pious intention of helping the daughters of courtesans and women of ill-repute or in extreme poverty, exposed to obvious dangers, in order to facilitate their marriage to selected men or their entry into a convent. In 1560, when the Company took stable form as a Confraternity, St. Ignatius suggested to Cardinal Federico Cesi that the church be rebuilt and dedicated to St. Catherine of Alexandria. Guidetto Guidetti, one of Michelangelo's apprentices, was put in charge of the work.
The beautiful two-storey façade bears some similarities to the façade of the church of Santo Spirito in Sassia, from which it differs for the richer ornamentation, including swags of fruit embellished with ribbons. A small octagonal dome surmounts the belfry of the coeval bell tower, built on a pre-existing medieval tower and clearly visible from Piazza Lovatelli. The elegant late-Renaissance interior is a single nave with a large rectangular apse as a presbyterium. It has remarkable works of art, such as the altarpiece with St. Margaret of Antioch by Annibale Carracci in the Bombasi Chapel, the Deposition by Girolamo Muziano and the fresco cycle with the Stories of St. Catherine by Federico Zuccari in the Cesi Chapel.
The adjoining monastery was demolished in 1940 with the idea of rebuilding it. The site was then left derelict until a major archaeological campaign uncovered the Crypta Balbi, now one of the four seats of the National Roman Museum.
Information
Address
POINT (12.4784035 41.893785)
Timetables
For the timetable of the masses and visiting conditions, please consult the contacts.
Contacts
Telephone:
06 6785883 - 06 44234230
Web site:
www.irasp.it/patrimonio/chiesa-di-s-caterina-della-rosa
Condividi
Location
Chiesa di Santa Caterina de' Funari, Via dei Funari
41° 53' 37.626" N, 12° 28' 42.2544" E
To find out about all accessibility services, visit the Rome accessible section.