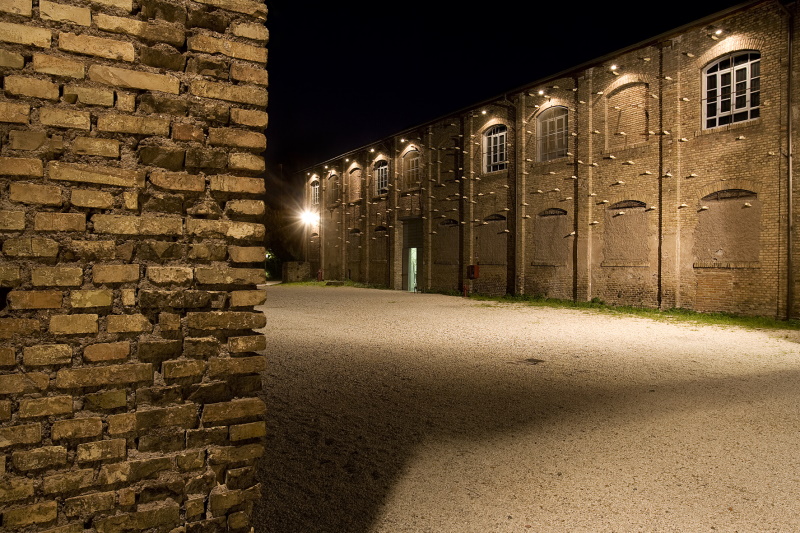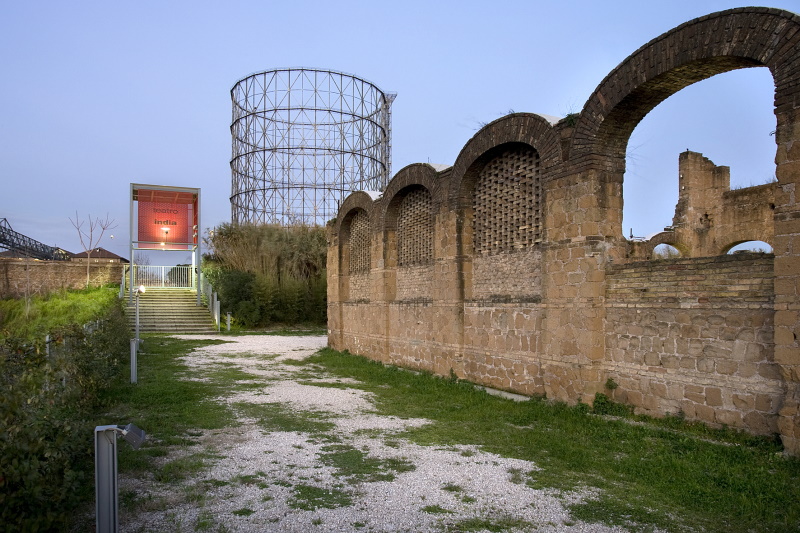 Always looking for new spaces in which to represent contemporary scenic forms, 20th-century theatre has often found its precise location within buildings of industrial archaeology specially renovated to accommodate it.
Oriented toward new languages and the promotion of emerging artists, Teatro India, created as an alternative venue to Teatro Argentina, is no exception. Located in the citadel of the former Mira Lanza factory, the theatre spans the imposing industrial settlement situated on the banks of the Tiber, with the Gazometro, the striking contemporary monument, as its backdrop.
Purchased by the City of Rome in the spring of 1999, the old factory site, which in the 1950s had become the headquarters of Rancati Warehouses, a theatrical and film prop company, was restored in a short time and inaugurated on 7 September 1999.
The theater's name is a suggestive reference to the Teatro Argentina: a space that evokes distant worlds but is rich in charm, history, and memories.
The building, clad in dark brick, is divided into three naves and has sloping roofs.
The theater consists of three halls, one of which recently recovered, allowing actors and audiences different possibilities of enjoyment, thanks to the versatility of the spaces. The frontal scene, more collected or dilated, and the theatrical actions with a circular plan, itinerant, concentrated, or on several vertical levels, can also accommodate the more articulated needs of the contemporary scene, both theatrical and choreographic, combined with visual arts and music.
Information
Address
POINT (12.4708741 41.87001)
POINT (12.4710454 41.8699442)
Timetables
For opening times and visiting condition, please check the contacts.
Contacts
Email:
promozione@teatrodiroma.net
Facebook:
www.facebook.com/TeatroIndia
Instagram:
www.instagram.com/teatrodiroma
Online purchase:
https://teatrodiroma.vivaticket.it
Twitter:
http://twitter.com/teatrodiroma
Web site:
www.teatrodiroma.net/doc/3170/teatro-india
YouTube:
www.youtube.com/user/teatrodiroma
Services
Accessibile ai disabili
Bar
Condividi
Locations
Teatro di Roma - Teatro India, Lungotevere Vittorio Gassman, 1
Lungotevere Vittorio Gassman, 1
41° 52' 12.036" N, 12° 28' 15.1464" E
Teatro di Roma - Teatro India, Via Luigi Pierantoni, 6
41° 52' 11.7984" N, 12° 28' 15.762" E
To find out about all accessibility services, visit the Rome accessible section.