The medieval "casina" is the only survivor of the dense building fabric that over the centuries had formed on the slopes of the Capitoline Hill, sacrificed between 1926 and 1932 to the new urban arrangements of the area.
These, already linked since 1919 to the desire to give a new structure and decoration to the Capitoline area with the isolation of the hill, are implemented with the opening of the Via del Mare (current Via del Teatro di Marcello) and the disappearance of Piazza Montanara located between the slopes of the hill and the nearby theater of Marcellus. During the demolitions, the discovery of important medieval structures in some parts led to their conservation and restoration in the 1930s aimed at reassembling what emerged in a completed building. This has partly preserved the original structures on the north side and on the side towards the hill (much remodeled with the presence of some original openings and others re-proposed in style) and has been completed by new facades in correspondence with via del Teatro di Marcello and the vico Jugario.
The preservation of the "casina", however, is probably more due to the need for an appropriate urban arrangement of the new via del Mare - since its structures are in a symmetrical position with the church of S. Nicola in Carcere on the opposite side of the desire to preserve a fragment of medieval history whose appearance could still help to mend the edge of the gutted area. The name of "casina dei Pierleoni", with reference to the noble Roman family living in the area between the church of San Nicola in Carcere and the Tiber in the 11th century, dates back to the years following the restoration.
Photo credits: Sovrintendenza Capitolina
You may also be interested in
Condividi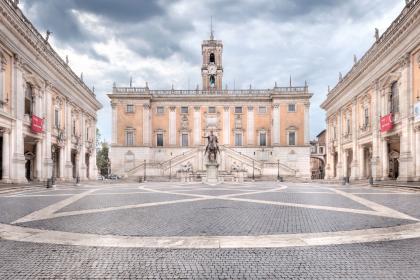 Piazza del Campidoglio (The Capitoline hill)
Condividi
Condividi
Information
Address
POINT (12.480479 41.891217)
Timetables
The building now hosts some of the offices of the Cultural Heritage Office of Roma Capitale.
Contacts
Web site:
www.sovraintendenzaroma.it/i_luoghi/roma_medioevale_e_moderna/beni_architettonici/casina_dei_pierleoni
Condividi
Location
Casina dei Pierleoni, Via del Teatro di Marcello, 5
Via del Teatro di Marcello, 5
41° 53' 28.3812" N, 12° 28' 49.7244" E
To find out about all accessibility services, visit the Rome accessible section.