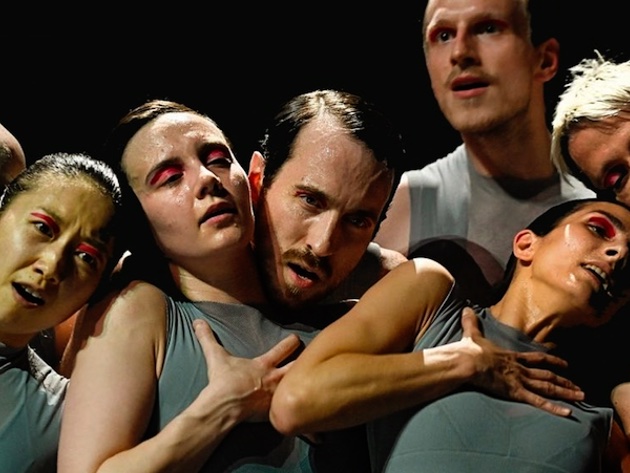 After the international successes of Plafona Now and, above all, of Soul Chain, the Israeli dancer and choreographer Sharon Eyal presents her latest work Promise at the Auditorium, together with her company Tanzmainz, as part of the Equilibrium Festival, dedicated to contemporary dance.
Sharon Eyal's main feature is to combine classical aesthetics with electronic music; in this show the seven dancers on stage become almost a single body: they give life to figures in a gloomy world, united by opposite and complementary feelings. Thus closeness and desire, ecstasy and loneliness, estrangement and love seem to coexist and fade into brief and precious moments.
Promise is a show that approaches the sphere of dreams, in which the almost unreal images disappear with the same rapidity with which they are composed.
Sharon Eyal danced with the Batsheva Dance Company between 1990-2008 and began choreography as part of the Batsheva Dancers Create project. Always for the same company she worked as associate artistic director and choreographer between 2005-2012. In 2009 he also started creating pieces for other dance companies around the world; her most famous shows include 2009's Killer Pig, 2011's Corps de Walk, 2011's Too Many and 2012's Plafona. In 2013 Sharon Eyal launched the L-E-V project with her longtime collaborator Gai Behar.
Photo credits: courtesy of Sharon Eyal Facebook Official Page
Informations
POINT (12.4751908 41.9291165)
Contacts
Email:
info@musicaperroma.it
Telephone:
0039 06 80241281
Web site:
http://www.auditorium.com/evento/tanzmainz_sharon_eyal_promise-25156.html
Condividi
Location
Sharon Eyal - Promise - Compagnia Tanzmainz, Viale Pietro De Coubertin, 30
Viale Pietro De Coubertin, 30
41° 55' 44.8212" N, 12° 28' 30.6876" E