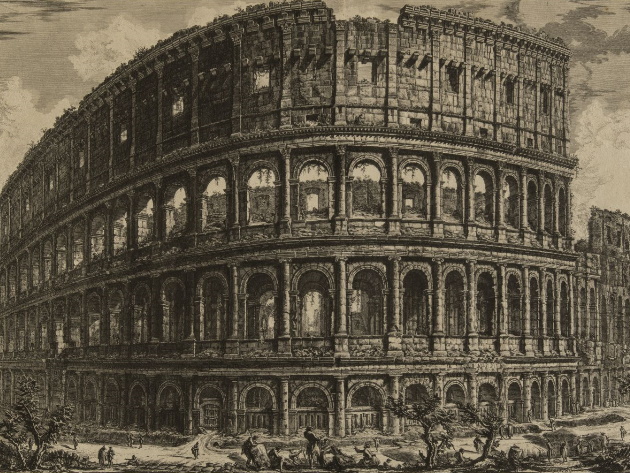 Giambattista Piranesi (1720-1778), master of etchings, was born on 4 October 1720. The Casa di Goethe celebrates him with some 40 engravings, Views of Rome (Vedute) and Capricci from the museum's own collection, exhibited together with works by contemporary German and Italian artists: photographers, visual artists, a writer, and an architect.
One of the 964 valuable original Piranesis printing plates stored at the Istituto Centrale per la Grafica in Rome (Palazzo Poli), is also on display. From 1854 to 1884, Palazzo Poli had been the headquarters of the German Artists' Association, whose archive and library are now kept in the Casa di Goethe.
Pronounced shadows, close-ups, diagonal cuts, moving skies and refined gradations, the Venetian-born and Roman-by-choice Piranesi shows us classical ruins and ancient monuments of the Eternal City, like Piazza del Popolo, the Colosseum, the Pantheon, Piazza Navona, St. Peter's Square,  adding vegetation and phantasmagorical figures to these places.
J.W. Goethe knew the works of Piranesi, who had prepared him for the "colossal concept" of Roman monuments. However he had some problems with the extreme expressiveness of these images. During the Italian journey he recalls the visit of the "ruined baths of Caracalla, of which Piranesi has given us so many a rich imaginary impression."
Piranesi looks at the city as an architect, set designer and connoisseur of Roman history. But also as a visionary, creator of utopias, who brings ancient structures back to life through perfect printmaking techniques and special perspectives.
The central theme of the exhibition is the fascination that Piranesi exerts on the contemporary artists Gabriele Basilico (1944-2013), Sebastian Felix Ernst(1987), Flaminia Lizzani (1963), Elisa Montessori (1931), Gloria Pastore (1949) Max Renkel (1966), and Judith Schalansky (1980).
In this way, the exhibition questions the reactions of today's artists to antiquity: with their works, some of which were created especially for this exhibition, they face the complex questions of the artistic dream of perfection, the fascination with ruins, which evoke an eternal present that today, more than ever, seems to erase the past and memories.
You may also be interested in
Condividi
Informations
When
from 16 October 2020
to 19 September 2021
POINT (12.477033 41.908975)
Contacts
Web site:
www.casadigoethe.it/it/mostra-temporanea
Timetables
From 16 October 2020 to 28 February 2021
Tuesday - Friday from 10.00 to 18.00
Last admission 30 minutes before closing time
Before planning the visit CONSULT THE OFFICIAL WEBSITE
Condividi
Location
Piranesi oggi, Via del Corso, 18
41° 54' 32.31" N, 12° 28' 37.3188" E