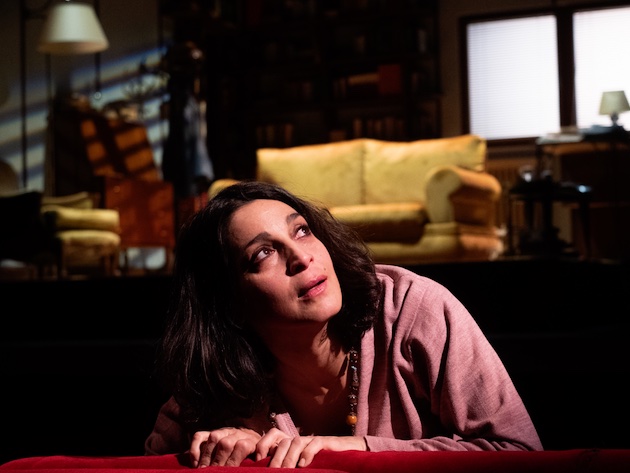 The show at the Argentina Theater, directed by Mario Martone and with the theatrical adaptation of Ippolita di Majo, is inspired by the autobiographical and scandalous novel by Goliarda Sapienza. A figure of a counter-current and out of every scheme woman, who has been able to fight against conformity thanks to writing, Goliarda Sapienza in her life was a partisan and feminist, but above all a great writer, who remained undiscovered for a long time.
Published for the first time in 1969, The midday thread tells about the psychoanalytic experience lived by the author after the period of depression, which resulted in a suicide attempt, the terrible experience of hospitalization in an asylum and of the electric shock, until the light of awareness and the recovery of one's own identity.
Through the words that the protagonist addresses to her doctor, we can reconstruct her entire difficult path: the departure from home, the third category pensions, the dramatic art courses, the fascist persecution, the "madness" of the mother, the difficulty in relationships with the opposite sex, the love for Citto. What emerges from the pages of the novel is above all a deep reflection on the female condition, without any moral prejudice: the discovery of the fullness of life even with all its frailties.
Photo credits: courtesy of Argentina Theater official site
Informations
When
from 1 May 2022
to 5 June 2022
POINT (12.476362 41.895619)
Contacts
Online purchase:
https://teatrodiroma.vivaticket.it/it/event/il-filo-di-mezzogiorno/175156
Web site:
www.teatrodiroma.net/doc/7601/il-filo-di-mezzogiorno
Timetables
Dal 1 al 5 giugno 2022
Mercoledì e sabato ore 19.00
Giovedì e venerdì ore 20.00
Domenica ore 17.00
Lunedì riposo
Durata 1 ora e 40'
Martedì 31 maggio 2022 ore 17.00 - sala Squarzina
Il filo di mezzogiorno - Il talk
Con Ippolita Di Majo, Donatella Finocchiaro e Roberto De Francesco
Interviene Lorenzo Pavolini
In collaborazione con Young Board di Dominio Pubblico e Teatro di Roma - Teatro Nazionale
Incontro gratuito con > prenotazione obbligatoria
Condividi
Location
Il filo di mezzogiorno, Largo di Torre Argentina, 52
Largo di Torre Argentina, 52
41° 53' 44.2284" N, 12° 28' 34.9032" E