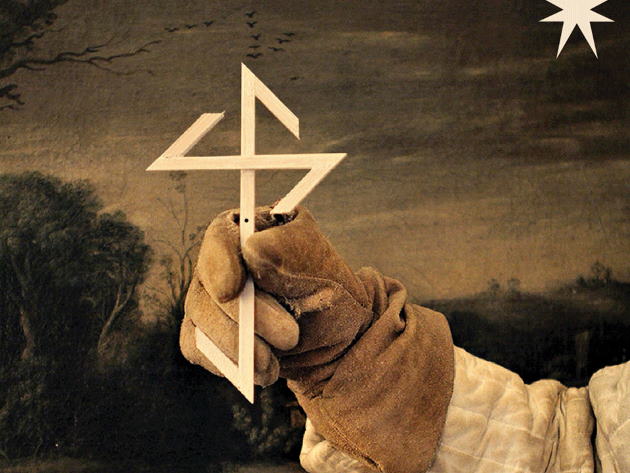 Started in 2012, the project brings together a cycle of ten episodes that make up a single monumental work being shown in its entirety for the very first time. Taking inspiration from the Golden Legend of Jacopo Da Varagine (1228-1298) and from the Bible, the artist reviews episodes from the story of the Holy Wood intertwining them with historical and contemporary events and figures of social and political importance and with alchemical and esoteric symbols.
The sets, which are deliberately inconsistent with the events' true era, invite us to enter a highly unique imaginary space, to reflect on the search for domination, control and the enforcement of certain ideologies that characterize the story of mankind, from the dawn of humanity up to our uncertain present, and to build our own initiatory path.
The ten chapters comprise a total of 18 performances presented through the video recordings produced by Francesco G. Raganato and Daniele Pezzi: the aesthetic composition studied with meticulous obsession and painting is in any case the nerve center of the display. A film retrospective, exploratory dialogues and performances focusing on live painting and tableaux vivants complete the project with an eclectic tangle of quotations mixing folklore, mythology, history, superstition and religion in a completely free way.
Informations
When
from 9 February 2021
to 27 June 2021
POINT (12.4737224 41.8760422)
Contacts
Web site:
www.mattatoioroma.it/mostra/luigi-presicce-le-storie-della-vera-croce
Timetables
Extended to 27 June 2021
Museums and Cultural Sites are subject at the COVID containment policy.
For visiting schedules and procedures, please contact the official websites.
Condividi
Location
Luigi Presicce - Le Storie della Vera Croce, Piazza Orazio Giustiniani, 4
Piazza Orazio Giustiniani, 4
41° 52' 33.7512" N, 12° 28' 25.3992" E