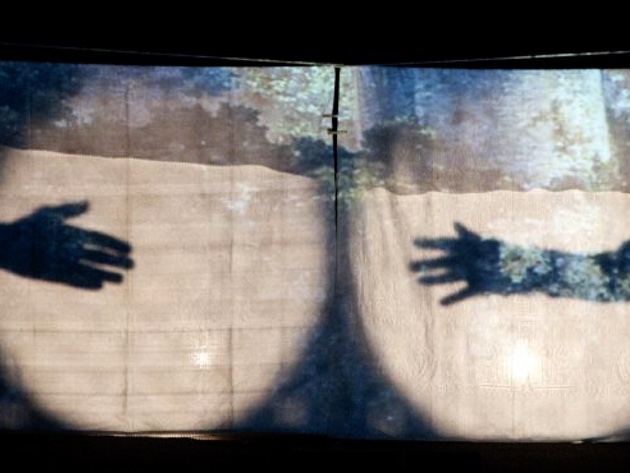 The show staged at the Mongiovino Theater is taken from the four-hand piano suite by Maurice Ravel Ma Mère l'Oye. Transcribed later also for orchestra, the suite consists of five pieces, inspired by illustrations taken from a children's storybook of the time: Sleeping beauty in the woods, Tom Thumb, Laideronnette empress of the pagodas, The conversations of Beauty and the Beast, The fairy garden.
In the show, the drawings that inspired the French composer magically come to life and thus, all the little protagonists of fairy tales, to the tune of music, evoke the poetry of childhood. We then find the little princess who, getting stung, falls into a deep sleep and is transported into a dream inhabited by little birds erasing the traces of bread crumbs left by Tom Thumb; the princess then dreams of Bruttina, the little empress of the pagodas loved by the green serpentine and of Beauty, prisoner of the Beast, herself a prisoner of a spell. Eventually the charming prince, with his white horse, arriving in the enchanted garden, manages to awaken her thanks to love.
The skilled hands of the actors who animate the puppets are thus able to transport us into a small fairy world made of words and magical notes.
Photo credits: courtesy of Mongiovino Theater official site
Informations
POINT (12.495011 41.859673)
Contacts
Facebook:
www.facebook.com/accettellateatromongiovino
Online reservation:
prenotazioni@accettellateatro.it
Web site:
www.accettellateatro.it/i-racconti-di-mamma-oca
Timetables
Sabato 5 febbraio 2022
Ore 16.30
Consigliato a bambini dai 3 agli 8 anni
Condividi
Location
I racconti di Mamma Oca, Via Giovanni Genocchi, 15
Via Giovanni Genocchi, 15
41° 51' 34.8228" N, 12° 29' 42.0396" E