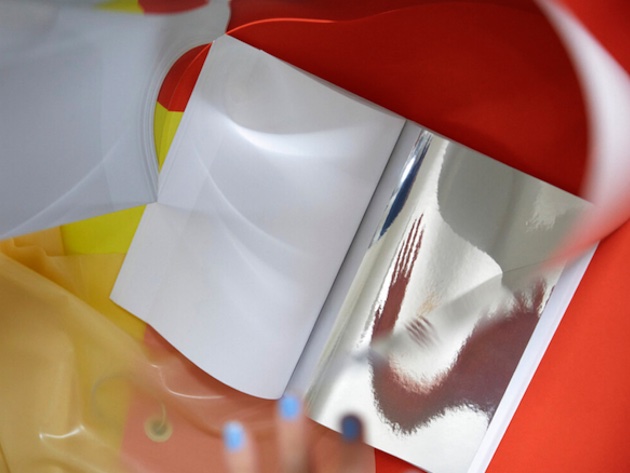 In the Touch, color and fold exhibition at MACRO, located within the In-Design section, the graphic designer Goda Budvytytė explores the process of creating a book not only through the sense of sight, but also that of touch.
In fact, with a synaesthetic process, the Lithuanian artist unfolds the constitutive elements of the raw material of the book, namely paper, in a spatial dimension, where touch, color and binding emerge as single primary factors influencing each other. In this way, an open and changeable structure-book is created, conceived in collaboration with the ĒTER architecture studio which, occupying the center of the exhibition space, generates a field accessible to different areas of attention. Each noun in the title of the exhibition also coincides with a specific component of the book formation process: "touch" corresponds to paper; "colour" to the ink; "fold" at the binding and so on.The different aspects of this training process are explored thanks to the involvement of professionals from other disciplines: the choreographer and performer Ula Sickle, who leads a series of guided sessions within the exhibition space based on public participation, the photographer Rasa Juškevičiūtė and the writer and curator Bernardo José de Souza. 
Goda Budvytytė, an independent graphic designer has, since long time time, focused her work on how to translate different types of content into books, visual identities, displays and other forms of interpretation. Among his most important commissions and collaborations we mention: the Lithuanian Pavilion at the 58th Venice Biennale; the Architecture of Territory D-ARCH, ETH in Zurich; the Tai Kwun Contemporary in Hong Kong;  the Garage Centre for Contemporary Art in Moscow; the MIT Press and Tate Publishing.
In 2018, the artist also founded the Laumes Studio, with Viktorija Rybakova, an interdisciplinary design, research and production studio.
Photo credits: courtesy of MACRO official site
Informations
When
from 24 February 2022
to 22 May 2022
POINT (12.5031051 41.9136996)
Contacts
Web site:
www.museomacro.it/it/in-design-it/goda-budvytyte-touch-colour-and-fold
Timetables
Dal 24 febbraio al 22 maggio 2022
Opening 24 febbraio, dalle ore 18 alle ore 21
Domenica, martedì, mercoledì, giovedì: 12.00 – 20.00
Venerdì, sabato: 12.00 – 22.00
Lunedì chiuso
Ultimo ingresso 30' prima della chiusura
Per aggiornamenti e le modalità di visita  consultare il sito ufficiale.
Condividi
Location
Goda Budvytyté. Touch, colour and fold (#In-Design), Via Nizza, 138
41° 54' 49.32" N, 12° 30' 11.178" E